The Young and the Restless Spoilers: Ashland's Love For Victoria Is Real – Too Bad The Snake Has To Go!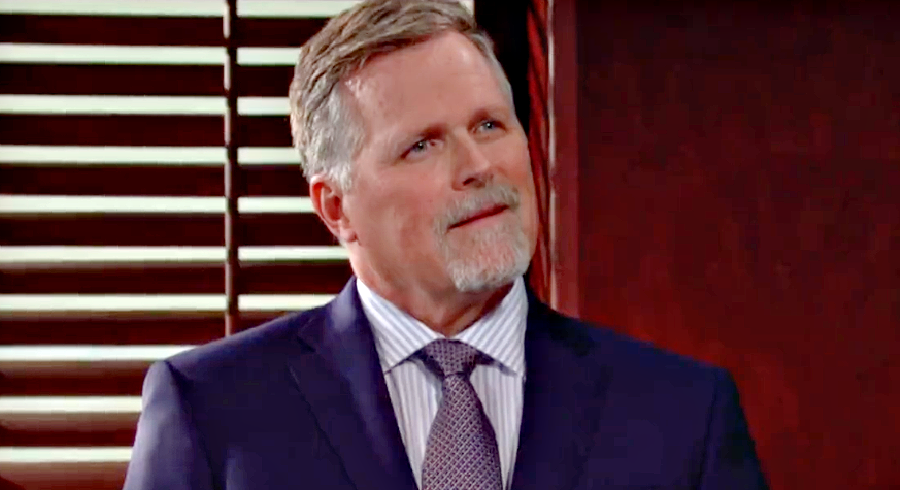 The Young and the Restless spoilers document that Ashland Locke's (Robert Newman) love for his wife is real. That unexpected reality seemingly developed while he was plotting his scheme to infiltrate Newman Enterprises last year.
The ballyhooed merger between the company Victoria Newman Locke (Amelia Heinle) heads and the Locke Communications Group created one of the world's great companies, at least in daytime. But Ashland's initial efforts did not involve him falling in love with his target.
Young and the Restless Spoilers – Richard Burgi's Time On Y&R
It may have been the plan to write Ashland through to his demise when Richard Burgi (Ashland) was initially cast. Modest evidence in that regard had the viewers seeing various scenes where Ashland suffered physical duress when no one else was with him. So, he had some type of condition. Whether it was cancer or not is an open question.
The on-screen chemistry that Burgi and Heinle developed, and the flow of their character's storylines may have led to a contract extension. Burgi came to the show as Tara Locke's (Elizabeth Leiner) husband.
Tara and her son, Harrison Locke (Kellen Enriquez), were a significant part of a separate storyline that involved Kyle Abbott (Michael Mealor) and Summer Newman Abbott (Hunter King).
It is reasonable to wonder if the departures of Mealor and King, which led to Leiner and Enriquez' exits from the cast, caused the focus to shift to the character Burgi initially played, or was he always slated to have the separate storyline that developed?
With whatever happened, Burgi's later cast exit opened a surprising door. And in walked soap opera icon Robert Newman.
Young and the Restless Spoilers – Robert Newman Recast Offers Opportunity For Ashland Character
Newman has spoken publicly about the unexpected nature of being offered the Ashland role. The actor who is best known for playing Josh Lewis on one of the ultimate iconic soap operas, Guiding Light, has been working steadily on television, in film, and on the stage since GL left the air in 2009.
Hiring someone of Newman's stature does not slam dunk the soapy ball on Ashland's storyline. The Lockeness Monster could still prove to be a limited-run resident of Genoa City, Wisconsin.
However, if all goes well, Newman could make Y&R his new daytime home indefinitely. Assuming that is more likely than not, what is Ashland's path forward?
Young and the Restless Spoilers – Ashland Locke's Love Overcomes Lies?
When all is revealed, time passes, and cooler heads prevail, Victoria will need to decide whether she trusts that Ashland truly loves her. If the answer is yes, he will remain in her life and possibly continue to work beside her.
The Ice Princess force has not been used against Ashland by Victoria. But the character Newman plays seems certain to face her death stare. Ashland should be immune to it because he is now believed not to be dying.
This site is a leading source for everything linked to The Young and the Restless. Check back to Soap Spoiler regularly for Y&R spoilers and news!