The Bold and the Beautiful Spoilers: Will Carter Lose Katie Back to Bill?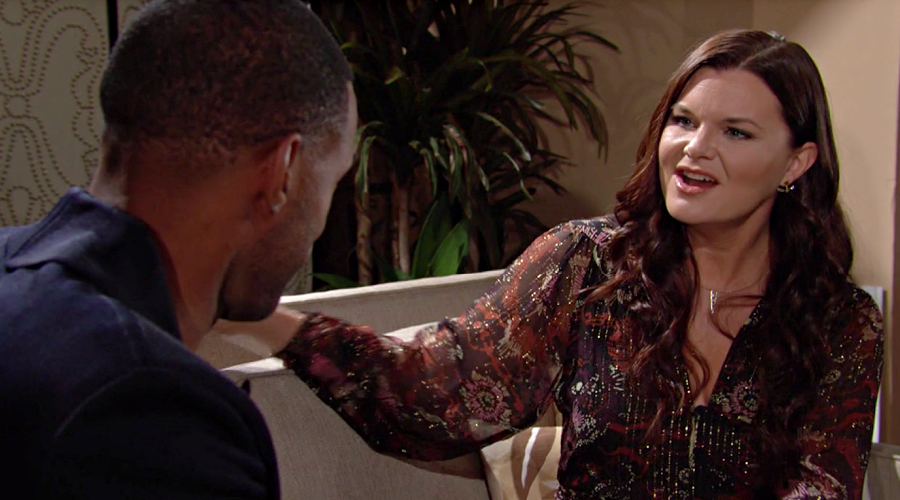 The Bold and the Beautiful spoilers document that Carter Walton (Lawrence Saint-Victor) is falling in love again. This time might be different than the last two. But two painful breaks strongly imply that he should proceed with caution.
Katie Logan (Heather Tom) is not Zoe Buckingham (Kiara Barnes), meaning that she is not engaged to Carter while simultaneously being more interested in Zende Forrester Dominguez (Delon de Metz). Katie is also not Quinn Fuller (Rena Sofer), with no further explanation needed.
Tom's character is rebounding from Bill Spencer (Don Diamont) to a certain degree. They did not recently split and have not been married in a while. But there is no doubt that she is looking for someone who projects better than Bill does in comparison.
Bold And The Beautiful Spoilers – Quinn Fuller Attempt Proved Disastrous
Carter told Katie that he realized the Quarter relationship was flawed from the start. She agreed that playing off a betrayal was not the best way to begin a romance.
Quinn is someone Carter bonded with because both people felt abandoned. Zoe abandoned Carter, whereas Quinn only believed that Eric was turning away from her.
The disastrous outcome for Carter happened because he allowed himself to believe Quinn would end Queric and leave town with him. Quinn decided that the love she developed for Carter did not top her deeper feelings for Eric.
Bold And The Beautiful Spoilers – Bill Spencer Blew It Again
Bill wanted to prove his love to Katie. So, long after he impulsively kissed her sister, Brooke Logan Forrester (Katherine Kelly Lang), in the cabin, Bill reacted badly to a car accident.
As viewers recall, Bill took control of a hit-and-run scene on Mulholland Drive. Believing he had to cover up Liam Spencer's (Scott Clifton) accident, Bill got rid of the evidence and created an elaborate lie that eventually resulted in him and his son being sent to prison.
Katie's longstanding beef with Bill centers on him being incapable of ending a pattern of reckless behavior. Promises must be followed by actions and have not been. So, she never reconciled and recently told Bill that a Batie reunion was not in the script.
Bold And The Beautiful Spoilers – Carter Walton Sees Mutual Respect
Zoe did not respect Carter. Quinn did not respect Carter either. Eric played a role in his wife's enabling as well.
Katie enters the scene from a different angle. She, like Carter, has been hurt.
Could it be that Katie is Carter's first soul mate? Might Carter be the stable persona that Katie has been seeking for years?
Hopefully, two nice people, who have long deserved better romantic fates, take a slow approach. A mutual commitment should be made before a serious relationship starts.
This site is a leading source for everything linked to The Bold and the Beautiful. Check back at Soap Spoiler regularly for B&B spoilers and news!