The Young and the Restless Spoilers: Devon Loses Dominic's Dad Role Once Abby Finds Chance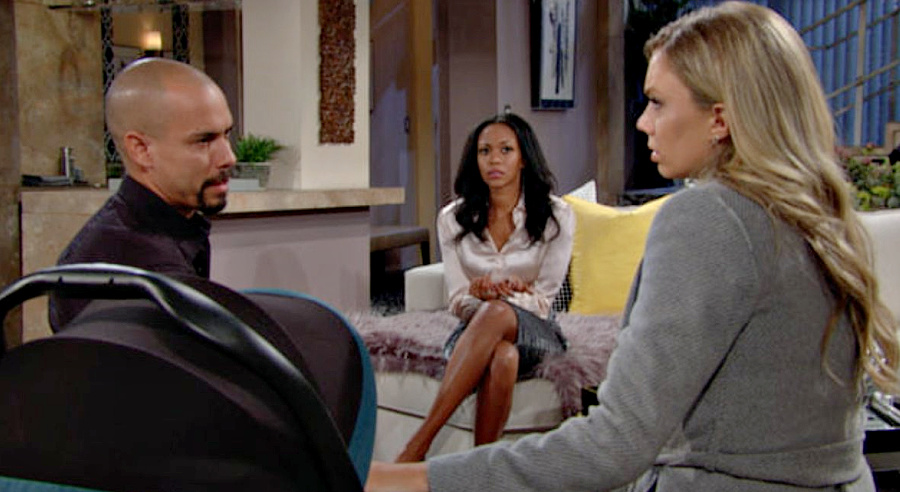 The Young and the Restless spoilers document that Devon Hamilton (Bryton James) was overjoyed when agreeing to Abby Newman Abbott Chancellor's (Melissa Ordway) request. He and Amanda Sinclair (Mishael Morgan) are now caring for Dominic Newman Abbott Chancellor (no baby actor known to be cast for this role)
Abby's intention appears to be honorable and heartfelt. She is right in thinking that the Chancellor mansion does not offer a peaceful atmosphere for Dominic during his early months on this earth.
Chance Chancellor (Connor Floyd) is believed to have been killed. Abby might still be intending to pursue answers in Spain, though she has not admitted to doing so yet.
Young And The Restless Spoilers – How Will Chance Chancellor Be Located?
Maybe Chance was not present at the safe house where he was staying? It could be that he was in a different location or escaped the blast before it occurred.
In the above scenario, Chance is attempting to contact his handlers or is on his way home. But that is speculation at this point in the plot.
Having Abby find Chance herself or lead a rescue team that accomplishes that goal would be good soap, rather than having him arrive at the mansion one day and ring the doorbell.
Young And The Restless Spoilers – Devon Hamilton Cares For Dominic
Devon was respectful of Chance throughout this entire ordeal. He specifically stated that Chance was Dom's dad, rather than assuming that title after Floyd's character went missing.
James' alter ego now believes that Chance was killed and naturally realizes that he will play an enhanced role in this boy's life. Devon was the donor and is the biological father.
Believing Chance is gone and knowing that he never met what would have been his son, Devon stands as the only father Dom has ever known.
Devon did not consider that Abby was giving her son to him so that she could be free and attempt to locate Chance.
Young And The Restless Spoilers – Abby Newman Abbott Chancellor Will Not Give Up
Abby is coming to grips with the possibility that Chance could be gone. However, her gut feel is that he is alive.
Moving to a hotel room to clear her head allows Abby to escape the monitoring process at the mansion.
Abby understands that her parents, Nina Webster (Tricia Cast), Mariah Copeland (Camryn Grimes), and the others care about her. But Abby needs space to breath and then plan.
Viewers are anticipating a freelance investigation with Abby assuming her husband's detective role. Fans know that Chance is teased to be confirmed as alive. So, having Abby make that discovery would represent feel-good soap.
This site is a leading source for everything linked to The Young and the Restless. Check back at Soap Spoiler regularly for Y&R spoilers and news!