The Bold and The Beautiful Spoilers Next 2 Weeks: Fantasies, Pressure Tactics, Shocking Reveal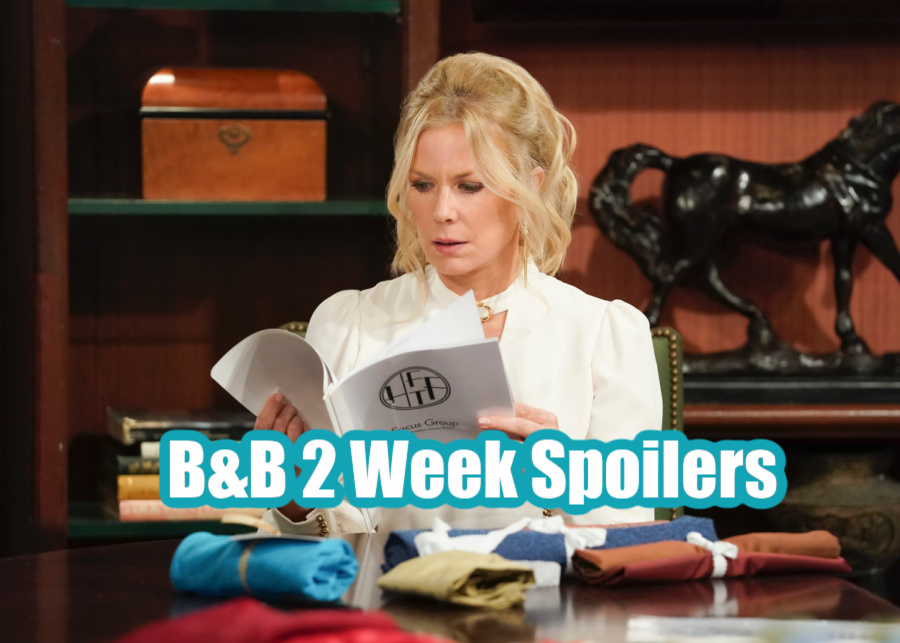 The Bold and The Beautiful spoilers for the next two weeks, November 15-19 and November 22-26, tease that there will be some serious life-changing tea spilled for some, and a real turkey of a Thanksgiving for others on The Bold and The Beautiful!
The Bold And The Beautiful Spoilers: Brooke Forrester's Pressure Tactics
The Bold and The Beautiful spoilers for November 15-19 will have Brooke Forrester (Katherine Kelly Lang) putting the pressure on Eric Forrester (John McCook)! Brooke will keep putting the thumbscrews to Eric, trying to force him to kick Quinn Forrester (Rena Sofer) to the curb while trying to do damage control for her sister Donna Logan's (Jennifer Garies) heart. Brooke will continue to try to convince Eric that he and Donna are soulmates and he needs to restore her job and what she considers Donna's rightful position in Eric's life. Quinn will decide to come clean to Eric about something, that will shock him enough that it causes a huge shift in their relationship. The big question for viewers of The Bold and The Beautiful is, will it bring them closer or split them farther apart, giving Donna an edge?
B&B Spoilers: Quinn Forrester's New Project
During the week of November 15-19, The Bold and The Beautiful spoilers tease that Quinn will take on a new project. This should keep her busy enough to hopefully not cause any further damage! Viewers of The Bold and The Beautiful will see Quinn working on her project with Zende Dominguez (Delon de Metz) and it will also include a special gift for Paris Buckingham (Diamond White). Zende wants to have Quinn design a very special piece of jewelry for Paris! Meanwhile, Quinn's ex-lover Carter Walton (Lawrence Saint-Victor) will continue to flirt with Katie Logan, (Heather Tom) and he will convey the message that he's ready to move on from Quinn – with Katie! Katie will be flattered, and will feel a sense of excitement and expectation about the road ahead with Carter! Both of them bonded very quickly and became recipients of a deep kinship with each other, so that should be good for both of them.
The Bold And The Beautiful Spoilers: Thomas Forrester Tries To Get Paris Buckingham's Attention
Also during the week of November 15-19, The Bold and The Beautiful spoilers tease that Carter will walk in on a curious situation between Thomas Forrester (Matthew Atkinson) and Paris – one that will make him wonder what's going on between the two of them! Thomas will soon move forward with a romantic scenario that he hopes will get Paris's attention away from Zende and on to him! Viewers of The Bold and The Beautiful may have picked up on that Thomas has secretly been crushing on Paris, and finally gets the words out to her about how he really feels – and she'll have an uncomfortable decision to make as to which man she really wants to be with!
As for Sheila Carter, (Kimberlin Brown) she'll continue being Sheila, and will pressure Jack Finnegan (Ted King) to tell Li Finnegan (Naomi Matsuda) the truth about his being John "Finn" Finnegan's (Tanner Novlan) birth father! It's just another version of her scheme she tried to perpetrate with Deacon Sharpe, (Sean Kanan) who wouldn't cooperate – she's seeking to break up Jack and Li while trying to get Jack back so Finn will gravitate towards both birth parents and bring baby Hayes Forrester Finnegan (Piper Harriot) along! Sheila will get at least part of her way as Li is crushed, and then forces Jack to confess the truth to Finn a bit later – right in front of Steffy Forrester (Jacqueline Macinnes Wood)!
B&B Spoilers:  John "Finn"Finnegan Struggles With The Truth
The Bold And The Beautiful spoilers for November 22-26 will see Finn continue to struggle with the truth about his paternity. Viewers of The Bold and The Beautiful will see Finn's whole world turn upside down, never having dreamed his adoptive father would turn out to be his real father, and he would have been the product of an affair between him and his birth mother! Sheila will continue her manipulations, using the pain of others for maximum effect, so that could mean she'll torment Jack, Li, or maybe even her "beloved" son Finn! She may also continue to try to rope Deacon Sharpe (Sean Kanan) into her schemes, although he'll likely continue to offer a hard pass in return! Both Sheila and Deacon will have their own Thanksgiving fantasies about their families, possibly humorous ones in some cases!
Stay tuned to The Bold and The Beautiful, and keep checking The Bold and The Beautiful spoilers frequently for all the latest news, updates, and developments!