The Bold and the Beautiful Spoilers: Brooke Will Not Be Kept Down – Will She Stand Strong & Win Ridge Back?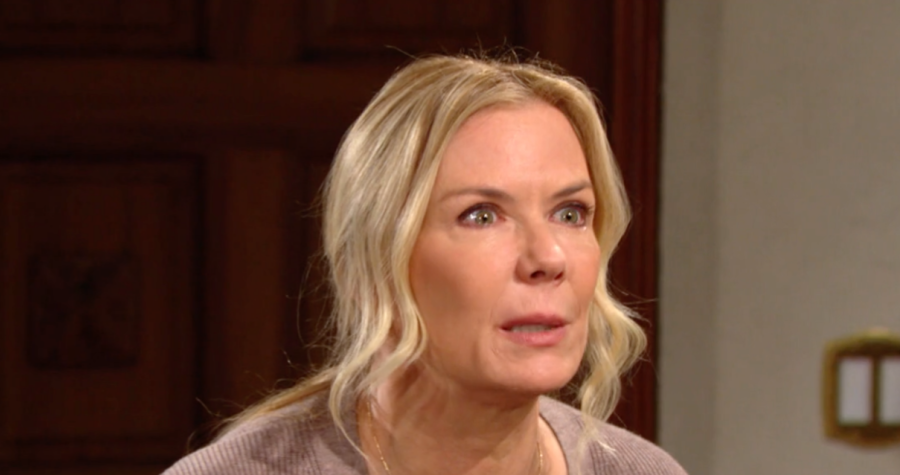 The Bold and the Beautiful spoilers document that Brooke Logan Forrester (Katherine Kelly Lang) looks to be down and out in Los Angeles, California. She fears that her marriage to Ridge Forrester (Thorsten Kaye) is in danger of ending and that Taylor Hayes (Krista Allen) will swoop in and take advantage of the situation.
Steffy Forrester Finnegan (Jacqueline MacInnes Wood) and Thomas Forrester (Matthew Atkinson) believe what they have longed for is actualizing.
Hope Spencer (Annika Noelle) and Liam Spencer (Scott Clifton) do not think Steffy and Thomas should be blocking Brooke from talking to the man who is still her husband.
But all is not fair in love and soapy war on B&B. Yet, Brooke's eternal resilience means that Taylor is not certain to take Ridge from her or if so, then not forever.
Bold And The Beautiful Spoilers – Deacon Sharpe Is Relevant
Deacon Sharpe (Sean Kanan) is Ridge's fall guy. He is responsible for leading Brooke astray, or at least that is what Kaye's character believes.
Kanan is the ideal bad guy. He was involved in a complex scandal, which is tagged as Brooke's greatest. Considering all she has done, that is quite the condemnation.
Brooke is furious with herself at the moment. She also defended Deacon while he and Ridge were fighting.
So, yes, Deacon is relevant, meaning that he can not be laughed off by Sheila Carter (Kimberlin Brown) or anyone else as not having a chance to bond with Brooke if she and Ridge are truly done.
Bold And The Beautiful Spoilers – Ridge Forrester Goes His Own Way
Ridge's statement about being home while he was at the cliff house with Taylor seemed premature. He was still wearing his wedding ring at that time.
Steffy and Thomas have been countering their father's defense of Brooke's many missteps for years. Now, after urging him to see the daytime light, he took his ring off while he and Taylor were reconnecting in the cliff house's spare room.
That decision is significant but does not reflect the official dissolution of his latest marriage to Brooke. Yet, the buildup to that moment, along with the accompanying background music, indicates that Taylor will be part of Ridge's immediate future.
Bold And The Beautiful Spoilers – Brooke Logan Forrester Falls Or Stands Strong?
In the coming days, Brooke and Ridge will talk. If, as projected, Ridge officially splits from her, the cliched tears Steffy and Thomas referenced will appear.
However, the late Stephanie Forrester's (Susan Flannery) famous choice to be with Brooke on the beach when she died resonates. Brooke has been, is, and will remain an indelible force within the Forrester family regardless of her marital status.
Ridge has and will likely never want to extinguish the flame he holds for Brooke. With that, how can Taylor ever feel that she has Ridge for anything more than the time until he returns to Lang's character?
Brooke, not Taylor, is B&B's leading lady. She is Ridge's as well, even if he currently wants to reestablish his family with Taylor.
This site is a leading source for everything linked to The Bold and the Beautiful. Check Soap Spoiler regularly for B&B spoilers and news!