General Hospital Spoilers Next 2 Weeks: Grand Gesture, Major Emergencies, Danger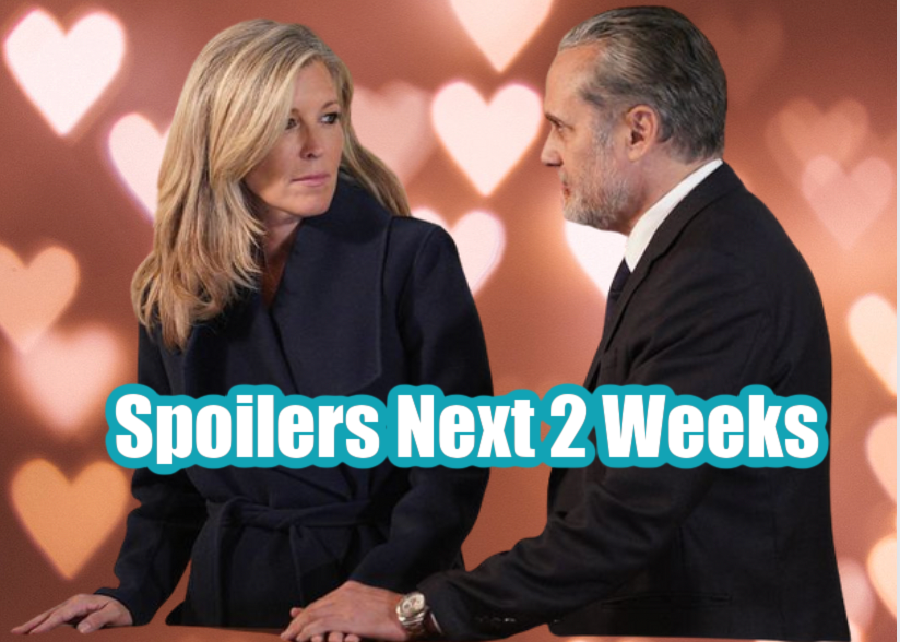 General Hospital (GH) spoilers tease for the next two weeks that some exciting drama awaits General Hospital viewers as February sweeps begin!
General Hospital Spoilers – Sonny Corintho's Grand Gesture Idea
General Hospital viewers will remember that Sonny and Carly Corinthos (Maurice Benard, Laura Wright) have hit an impasse in their marriage – Carly left Sonny after finding out that he'd fallen in love with Nina Reeves (Cynthia Watros) when he had amnesia. General Hospital viewers will recall Carly felt betrayed because he didn't tell her right away, when all he was doing was trying to spare her too much grief after the deaths of Jason Morgan (Steve Burton) and newborn Liam Mike Corbin (uncast infant). But Carly wasn't buying what Sonny was selling, and she wants time and space apart from him so she can be sure if she wants to make a permanent split or not. But Sonny is desperate to win Carly back, and talks to Ned Quartermaine (Wally Kurth) about his plan for something so romantic it'll knock her socks off; Ned doesn't think it's such a good idea!
GH Spoilers – Michael Corinthos's Romantic Gesture
Also during the week of January 31-February 4 General Hospital viewers will see Michael Corinthos (Chad Duell) also come up with a grand gesture for Willow Tait (Katelyn MacMullen); a trip to Paris! Michael figures it's a good time to get away from the drama and danger in Port Charles, and more than likely he's thinking both of them will go, and perhaps it will be like a honeymoon although they haven't officially remarried. Unfortunately, their romantic getaway will be cut short when bad news arrives from back home, and they'll have to return to Port Charles to handle a mess, which as General Hospital viewers know could either be within the Corinthos family or possibly something relating to Willow's birth mother, Harmony Miller (Inga Cadranel).
General Hospital Spoilers  – Strange Goings On At General Hospital
General Hospital viewers will also see more strange goings on at General Hospital, as Dr. Hamilton Finn (Michael Easton) and Nurse Elizabeth Baldwin (Rebecca Herbst) try to figure out who might want to harm Franco Baldwin's (Roger Howarth) legacy.
Finn and Elizabeth will talk about the migrating ring mystery and other issues that have come up such as the arson of Franco's art studio as they stand in the art therapy room where Franco once worked with troubled children. Elsewhere in General Hospital, Peter August (Wes Ramsey) will be prepared for prison transport back to Pentonville Prison, but Victor Cassadine (Charles Shaughnessy) has already derailed that plan, including kidnapping his own son Valentin Cassadine (James Patrick Stuart)!
General Hospital viewers will recall that Valentin was onto Bailey Quartermaine (London and Jett Prinzo-Berendt) being Louise Jones, (London and Jett Prinzo-Berendt) and Victor already told Peter about Louise, he couldn't let Valentin stop his plans to deliver baby Louise to Peter! Mac Scorpio (John J. York) may be shot during the derailed transport, as we already know one of the Scorpios will go under the knife!
GH Spoilers – Esme Plays The Victim
General Hospital viewers will see Esme Prince (Avery Kristen Pohl) play the victim while she'll find out her boyfriend "Spence" Cassadine (Nicholas Chavez) no longer trusts her. The chaos at the Corinthos cabin was meant to blow up Spencer's friendships but Esme will find things backfiring on her, with Spencer pretending to reconcile with her. Spencer will be trying to protect both himself and his friends from the scheming manipulator, even though it hurts him knowing that her love for him must be a lie. General Hospital viewers know friends don't treat friends that way but as he, Esme and the teens have a get together before he goes off to Spring Ridge, Esme might realize "Spence" is playing her!
GH Spoilers – Trina Robinson Has A Heart To Heart With Josslyn Jacks
General Hospital viewers will also see Trina Robinson (Sydney Mikayla) and Josslyn Jacks (Eden McCoy) having a heart to heart about what happened at the cabin. Joss wants to know if she really meant some things she said during the drinking game, "Never Have I Ever". General Hospital viewers know that not only was Trina drunk at the time, she was drugged, and Trina will blame her outbursts on the alcohol. However, Joss will worry those were her true feelings brought out by the alcohol, and she worries if her friendship with Trina is affected now that she and Cameron Webber (William Lipton) are together and then some! Trina will go back to work at the Jerome Art Gallery much sooner than expected, and Ava Cassadine (Maura West) might find out about what happened at the cabin  – at least what Trina knows about!
General Hospital Spoilers – Ned And Olivia's Vow Renewal
General Hospital viewers will see Ned and Olivia Quartermaine (Wally Kurth, Lisa LoCicero) renew their marriage vows this week on General Hospital, but there will be some unexpected and unwanted guests who'll show up looking for Tracy Quartermaine (Jane Elliot). Tracy will be in trouble and not doing very well, with the people likely from Luke Spencer's (Anthony Geary) past probably after the Ice Princess diamond! We know it won't be Jennifer Smith (Holly Gagnier) because she's gone back where she came from, but there could be other enemies from Luke's past behind this! Also, General Hospital viewers will see Maxie Jones (Kirsten Storms) and Austin Gatlin-Holt (Roger Howarth) figure out where they go from here after that passionate Pautauk kiss!
GH Spoilers – Sonny Corners Carly
General Hospital viewers will see Sonny corner Carly to try and get a yay or nay from her about reconciliation, exactly what Ned advised against! Sonny off his meds is pretty difficult to deal with and he may go from a manic phase into a depressive one over Carly's continued avoidance. Kristina Corinthos-Davis (Lexi Ainsworth) will try and encourage her dad, and hopefully will recognize the signs of his being off his meds and encourage him to get treatment as well. After Ned and Olivia's vow renewal, General Hospital viewers will also see Brook Lynn Quartermaine (Amanda Setton) and Harrison Chase (Josh Swickard) open up to each other and move closer towards becoming a real couple.
General Hospital Spoilers – Major Emergencies
General Hospital viewers will see major emergencies happening on General Hospital during the week of February 7-11! Carly will race to General Hospital and Nina will worry as well – this could either involve something happening to Wiley Corinthos (Viron Weaver) or it could be a bipolar incident with Sonny! But they aren't the only Port Charles residents with emergencies this week – Maxie and Felicia Scorpio (Kristina Wagner) will wait for updates, which could be connected to Mac being injured during Peter's escape. Maxie will also continue to worry about Peter's escape and the risk to Louise, with Chase and Brook Lynn calling for help; it may be Victor or his henchman Johan (Max Decker) who does the actual kidnapping although Victor's plan will hit a snag. That might mean Peter kidnaps Louise; Maxie, Chase and Brook Lynn will have to make some quick decisions! General Hospital viewers will also see Charlotte Cassadine (Amelie McClain) worry about her father, so Valentin may still be missing; or maybe he's the snag in Victor's plan and he could have been injured!
GH Spoilers– Tensions Aboard The Haunted Star
General Hospital viewers will see tensions explode aboard The Haunted Star, so it's possible that's where Peter is hiding out. Maxie will be forced into a difficult choice, so it could mean that he'll demand Louise in exchange for someone he's holding hostage on the boat, which could be Valentin or even Anna Devane (Finola Hughes) – or her mother, Felicia! General Hospital viewers will also see Sonny go over to Charlie's Pub again where Phyllis Caulfield (Joyce Guy) will have it all decorated for Valentine's Day. Sonny may use this to his advantage, with Carly moving forward with a meeting that could affect her future, she may meet him there to talk. Or, as General Hospital viewers know, she could be moving forward with a divorce!
General Hospital Spoilers – Liz And Finn Figure Out Who The Culprit Is
General Hospital viewers will see Liz and Finn face a major development in the mystery they've been trying to solve, and it looks like they may either catch someone in the act or figure out who it is! General Hospital viewers know that the mystery has seemed to be Franco related, so it will be interesting to see who this stalker really is! Meanwhile, General Hospital viewers will see Liz's best friend Dr. Terry Randolph (Cassandra James) get ready for a first date with her dating match app, but a case of mistaken identity will make things very interesting! Terry may find her path to love out of this comedy of errors!
Be sure to catch up on everything happening with GH right now. Come back here often for General Hospital spoilers, news, and updates.