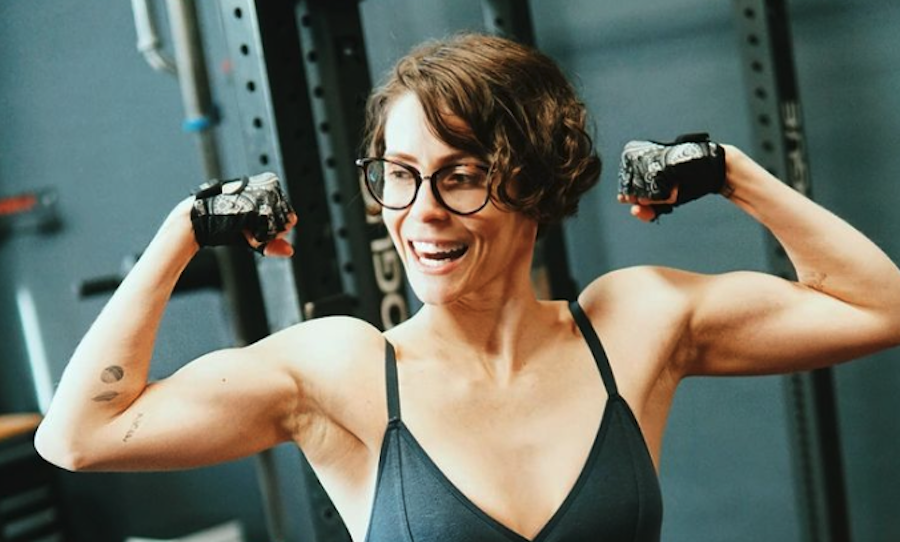 Days of Our Lives star Linsey Godfrey (ex-Sarah Horton) has certainly been working on her fitness. The beautiful brunette recently shared a photo of her transformation with fans. She's been spending a lot of time in the weight room ever since she left the hit NBC soap. Here's what you need to know.
Days Of Our Lives Star Linsey Godfrey Updates Fans On Her Transformation
Sharing several photos of her new toned arms and her abs, many of her fans commented on how great she looks. One person even said, "I keep showing a friend your pics and progress. They are bipolar as well. I am slowly convincing them that work outs help big time. Love that you are sharing your progress. Thanks beautiful."
Linsey replied with, "Oh what a beautiful thing to hear! Yes working out helps so much with mental health! I can feel it in my brain when I haven't been diligent about going. Please send my love and encouragement to your friend and to you!"
Back in March of last year, Linsey opened up about her struggle with being bipolar. In a video, the actress explained that as a result of her two mental health disorders, her life has been in disarray. Linsey said suffers from depression, anxiety, and Obsessive-Compulsive Disorder. "Mostly what that means is that I have a tougher time regulating my emotions," she shared. "With Bipolar, I can experience something called hypermania or severe depression, and that can last for days or weeks. With Borderline, I can have those kinds of switches within hours of one another in the same day."
Days Of Our Lives News: All About Linsey's New Look
Linsey also said she was "genuinely terrified to speak publicly" about her diagnosis. She continued,  "There is such a terrible stigma around those of us that may deal with mental health disorders. We aren't broken, we aren't unhinged, our brains just work differently. We aren't any less capable of being anything that a person without these or any other disorders can be."
In the meantime, let us know what you think by leaving us a line with your thoughts in our comments section below. Days of Our Lives airs weekdays on the NBC network. Check your local listings for times.
Be sure to catch up with everything on DOOL right now. Come back here often for Days of Our Lives spoilers, news and updates.