The Young and the Restless Spoilers: Chance's Shocking Next Move – What's Best For Dominic and Abby?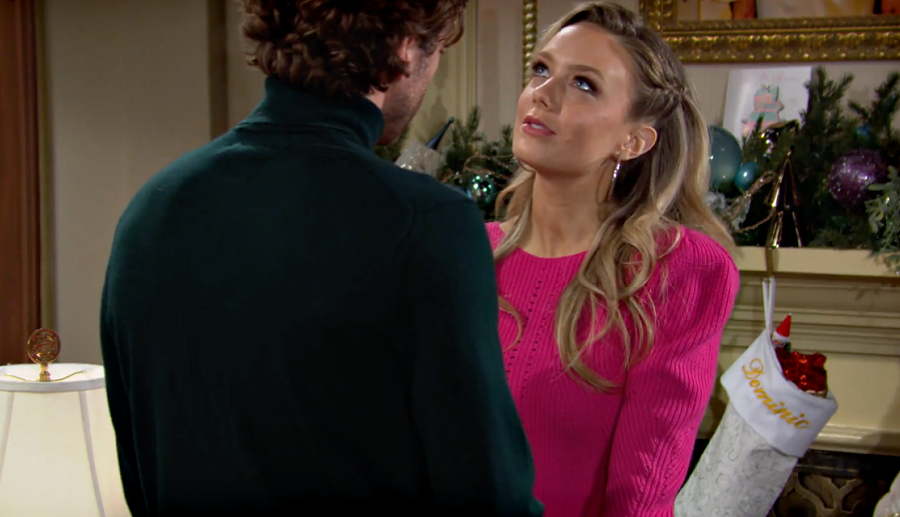 The Young and the Restless spoilers document that Chance Chancellor (Conner Floyd) is struggling and will face a huge decision soon. However, he has plenty of support from loved ones and friends who admire him.
Chance appears unable to conduct a full count of his blessings during this holy time of year. That is understandable based on the extended trauma he endured in Spain.
But he can not use his free will to feel sorry for himself forever. Chance has a wife he shares vows with and a son he agreed to raise in Genoa City, Wisconsin.
Young And The Restless Spoilers – Chance Chancellor Was A Hero
Was is the operative word in the section header. It is not heroic to live in a mansion, have servants who wait on him, or in having the resources to employ a nanny that dotes on Dominic Newman Abbott Chancellor (no baby actor's name known for this role). No, Chance is highly fortunate.
Returning from a horrid assignment was never going to be easy. Abby Newman Abbott Chancellor (Melissa Ordway), Nina Webster (Tricia Cast), Jill Abbott Atkinson (Jess Walton), Devon Hamilton (Bryton James), Mariah Copeland (Camryn Grimes), and others recognize that. But they also understand that Chance can not be allowed to wallow in Wisconsin.
Young And The Restless Spoilers – Abby Newman Abbott Chancellor Deserves Support
Abby can not become Chance's enabling nursemaid. Playing into a victim mentality can easily morph into a lifestyle that consumes Chabs whole.
Chance's efforts eventually led to the bad guys and ladies' arrest. Hopefully, the never-defined threat was stopped in full.
With the home front being secure, Abby and Chance have the opportunity to begin living a sweet life. Now, just as he took professional responsibility, so too must the character Floyd plays look beyond himself and think about Abby and their baby.
Young And The Restless Spoilers – Working For Paul Williams
It is noticeable that Y&R has not shown Chance's partner, Rey Rosales (Jordi Vilasuso), at the GC Police Department in recent months. That is a shame, as people like Rey and his boss, Paul Williams (Doug Davidson), put their lives at risk every day, just like Y&R's writing staff said Chance and his team did on that overseas assignment.
Davidson's character has been missing in action from the show, which is not respectful of that legacy character, or the position Paul earned and holds. Hopefully, that matter is soon resolved.
In the meantime, and in-between time, Chance should consider what his next career move should be. Maybe his recent experience leaves him unable to protect and serve GC's residents, as Paul, Rey, Kevin Fisher (Greg Rikaart), and others are doing? Of course, Paul, Rey, and Kevin have families like Chance.
This site is a leading source for everything linked to The Young and the Restless. Check back regularly for Y&R spoilers and news!