The Bold and the Beautiful Spoilers: Deacon & Sheila Square Off Over Brooke – Lover To One, Enemy To The Other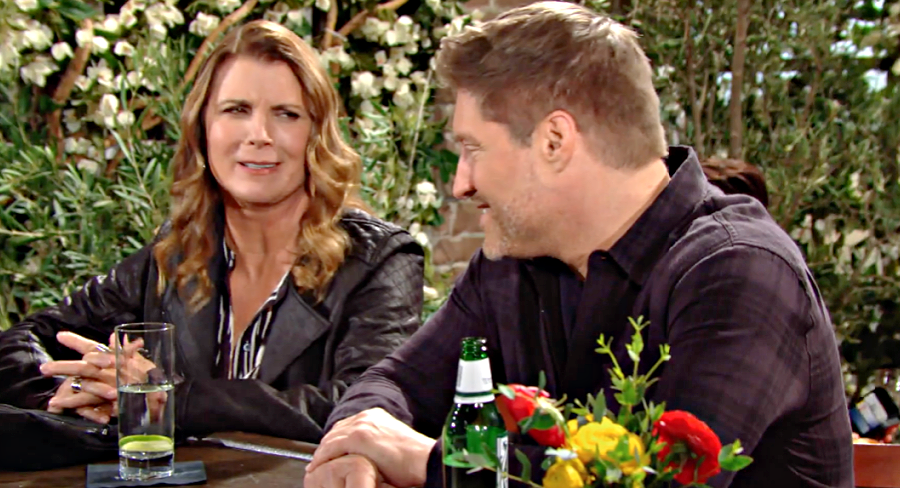 The Bold and the Beautiful spoilers document that Deacon Sharpe (Sean Kanan) and Sheila Carter (Kimberlin Brown) have divergent feelings for Brooke Logan Forrester (Katherine Kelly Lang). Deacon still loves Brooke. Sheila marks her as an enemy.
Sheila hoped to forge a personal relationship with Deacon. Her intent was more strategic than romantic or emotional.
If Sheila could have pulled Deacon off the board, she would have neutralized him as a force Brooke could use. The opposite of what Sheila wanted is happening, which implies a fierce, multiple character fight is ahead.
Bold And The Beautiful Spoilers – Ridge Forrester Is Not The Guy
Ridge Forrester (Thorsten Kaye) is Brooke's greatest love and current husband. But he is not the guy she recognizes as being fair-minded.
In light of Deacon's efforts to better himself and improve his life, Brooke believes that he deserves the benefit of the doubt. She detects a profound chance in Deacon's heart. Ridge sees him differently.
What Ridge does not recognize is that his reaction makes Deacon look sympathetic. Kaye's character does not have the discipline to keep his emotions in check, which appears to be one of the reasons why the writing staff has written Deacon and Hope Spencer's (Annika Noelle) karate lessons into the script.
Bold And The Beautiful Spoilers – Slow And Steady Wins The Soapy Race
Deacon had a plan when he was in prison. He planned to try and create a bond with Hope upon his release. Mission accomplished to date.
Ridge's assumption, that Deacon is aiming to take Brooke from him, is slightly off-base. While Deacon would like nothing more than to move into the estate Brooke owns and explore the passion they once shared, he knows that Bridge is eternal.
So, Deacon has chosen a measured path. He genuinely is not trying to provoke Ridge.
In contrast, Ridge is creating confrontations with Deacon. He comes across as an insecure high school football captain whose girlfriend smiled at the second-string guy on the bench, which causes the irrational jock to erupt in rage.
Bold And The Beautiful Spoilers – John Finn Finnegan Keeps Sheila Carter In Check?
If not John Finn Finnegan (Tanner Novlan), then who can keep Sheila in check when she inevitably seeks to damage the lives of those she deems enemies
Steffy Forrester Finnegan (Jacqueline MacInnes Wood) is too close to Finn for Sheila to attack her directly. Taylor Hayes (Krista Allen) would seem like the proxy target but skillfully begins to present a truce-type arrangement during the Christmas holiday.
That leaves Brooke as the subject of Sheila's sinister gaze. Taylor is not defending Deacon. Brooke is. And that is the man Sheila hoped to use as part of the since-rejected Shecon ruse.
Everyone knows that Sheila does not accept no for an answer. Deacon wants Brooke's yes. That, among other matters, makes Sheila angry. So, he will naturally defend Brooke when Brown's character attacks.
This site is a leading source for everything linked to The Bold and the Beautiful. Check back regularly on Soap Spoiler for B&B spoilers and news!