General Hospital News: Laura Wright Shares A Fabulous Behind-The-Scenes Photo With Her Co-Stars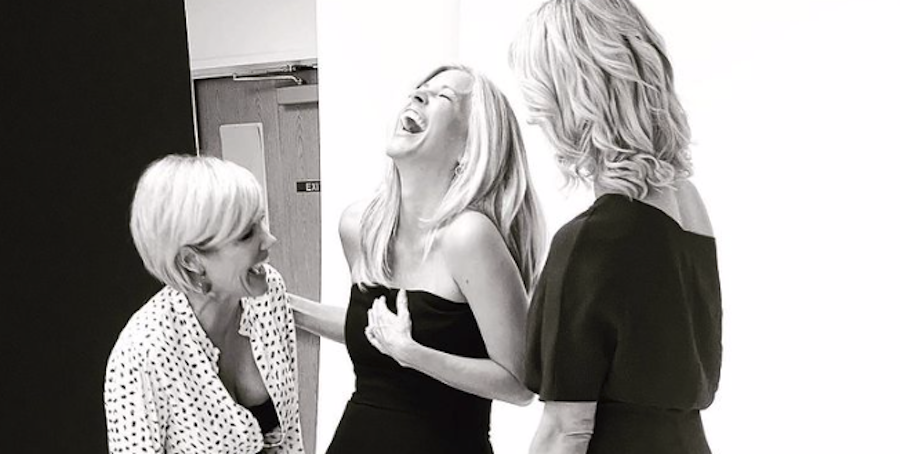 General Hospital fans can't help but ask, can it get any better than this? Laura Wright (Carly Corithos) is proving that you can be great at your job and love all the people that you work with, regardless of who you are or what you do. The actress shared a very special photo on her Instagram account that fans just can't get enough of. Here's what you need to know.
General Hospital News: Laura Wright Shares A Fabulous Behind-The-Scenes Photo With Her Co-Stars
Posting a stunning black and white photo of Laura with her co-stars Maura West and Cynthia Watros sharing a laugh during a behind-the-scenes photo shoot, she captioned her photo with, "I love these ladies. #girlsgirlsgirls ##igetbywithalittlehelpfrommyfriends #GHBaby#alwayslaughing #sofinggrateful."
Of course, it didn't take long at all for her fans and followers to comment on the pic. Many of them said, "OMG I love this so much. What a stunning picture of such strong beautiful women. Please give us more of this energy," along with, "I am so glad to see that you guys are friends in real life. That laugh means everything. You three ladies are the Daytime QUEENS."
Another fan wrote, "THIS. This is everything. This is the kind of energy that women need to share at the workplace, regardless of where you work."
Back in November, Laura opened up about working with Ava and Cynthia in an interview with Soap Opera Digest. Calling Cynthia "amazing and supportive" Laura said, "I've known her for a long time and it's just an honor to work with her. And to be able to tell this story, and to play these scenes with someone that you respect so much, that is huge, I have to say, because when you go in and have to have such heightened emotions and physical energy, you really have to be able to trust the people that you work with."
General Hospital News: Laura Loves Her Ladies
When it comes to Maura, Laura has just as many positive things to share about the actress. Laura added, "I'm like, 'These characters are not real!' Maura goes home to five kids and her husband, and I come home to Wes Ramsey and a puppy and there are times that I'll be watching a TV show and Maura and I are sitting here texting each other and laughing about some show we are watching. It's very interesting how different we are off camera." 
Be sure to catch up with everything on GH right now. Come back here often for General Hospital spoilers, news and updates.