The Young and the Restless Spoilers: Will Ashland Survives The Holidays with Victoria?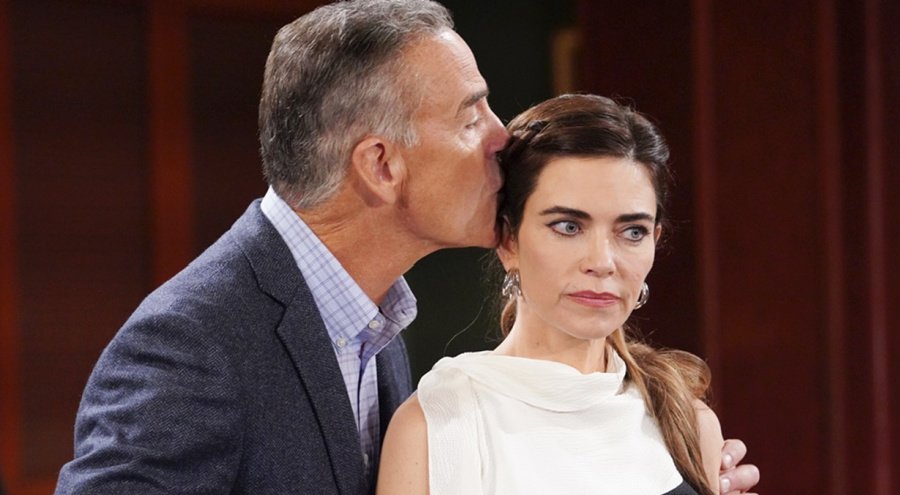 The Young and the Restless spoilers document that Ashland Locke's (Richard Burgi) change of heart about his health happened because of one person's influence. The woman who impacted his outlook was Victoria Newman Locke (Amelia Heinle). Now, the Locke's are hoping for a miracle before the holidays.
Thanksgiving and Christmas should be great days for a newly married couple. But Ashland and Victoria know that those major holidays could be the first and last ones they spend together.
Viewers know that Ashland is in decline. He surely looks no worse for wear physically, despite the intensity of the treatments he has been receiving. Considering the lack of success, one would think that Ashland would look ashen. But he does not. So, it is fair to wonder how far his cancer has progressed?
Young And The Restless Spoilers – Peru Trip Was Worth It
An experimental treatment option was available out of the country. Ashland and Victoria were not pleased with his United States-based team of physicians. So, with Nate Hastings' (Sean Dominic) advice and consent, Vashland booked a flight to Peru.
The trip would have been worth it, even if nothing resulted. However, teasers indicate that a course of treatment is available and will be considered.
Why not take a chance on this type of option? It is worth the risk, unless an available treatment produces lethal results.
Young And The Restless Spoilers – Ashland Locke's Outlook Vastly Improved
No matter how long Ashland may live, be it a matter of weeks or years, his outlook on life has changed for the better. He met and then married the right woman after disconnecting from Tara Locke (Elizabeth Leiner). Leiner's character is starkly different than Victoria.
While Ashland committed crimes in years past, he has come clean and is a better man. His love and selflessness allowed Harrison Locke (Kellen Enriquez) to live with Skyle, along with the respect Ashland has shown Victoria is double proof of a new lease on life.
But a lease is limited. So, how much time will TPTB allow Ashland to live?
Young And The Restless Spoilers – Victoria Newman Locke's Eyes Are Open
Victoria is not living in a fantasy world. She accepted Ashland's health status for what it was and is confronting it with him.
Heinle's legacy character also knows Ashland may not live past Christmas or far into the new year. She is determined to enjoy whatever amount of time they have left together and keep pushing for whatever medical efforts can at least extend her husband's life.
This site is a leading source for everything linked to The Young and the Restless. Check back at Soap Spoiler regularly for Y&R spoilers and news!