The Bold and the Beautiful Spoilers: Paris Chooses Future – Team Zende or Team Thomas?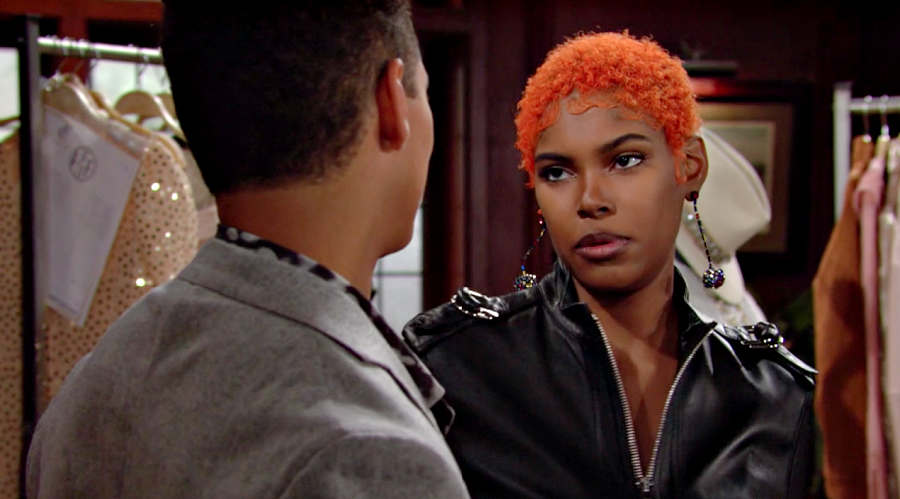 The Bold and the Beautiful spoilers document that Zende Forrester Dominguez (Delon de Metz) can not stop gushing about Paris Buckingham (Diamond White). His ask to Quinn Fuller (Rena Sofer), as she said, takes his interest to the next level.
Asking Quinn to create an engagement ring for Paris is a dramatic step. Zende has only been dating Paris for a handful of months but feels that she is the woman he wants to spend the rest of his life wife.
However, a soapy problem exists and has a name. Zende's cousin, Thomas Forrester (Matthew Atkinson), is falling for Paris as well.
Bold And The Beautiful Spoilers – Thomas Forrester's Past Is Checkered
Paris represents another woman who is committed to someone else. Thomas does not believe Paris and Zende are fully committed to each other. So, Atkinson's character believes he has a chance to win her love.
Quinn has just received the ring request. So, Thomas rightly believes Pende is merely in early couple's status as of now.
Thomas is an eligible bachelor. His shady past is something Paris is familiar with because he used her sister as part of an engagement ruse. B&B fans recall that Thomas only asked Zoe Buckingham (Kiara Barnes) to marry him as part of an effort to draw Hope Spencer's (Annika Noelle) interest.
But Paris has moved past what Thomas did to Zoe, which included a humiliating wedding day fail for both intended spouses. She is fond of Thomas but seems drawn to Zende more deeply.
Bold And The Beautiful Spoilers – A Winning Performance
Paris took Zende with her to Dodger Stadium but did not mention that she would be singing the National Anthem of the United States. Zende was blown away by her performance.
This likable pairing deepened their relationship in recent weeks. Yet, it did not seem like Zende was moving toward an engagement offer just yet.
Carter Walton (Lawrence Saint-Victor) became quickly taken with Zoe. Just like he convinced himself that she was the woman for him, so too has Zende concluded Paris is his destiny.
Bold And The Beautiful Spoilers – Who Does Paris Buckingham Choose?
An easy out would be to predict that Paris does not marry either man, even if she accepts the engagement ring that Quinn is tasked with creating. But let us not duck the subject header question.
Zende is the easy choice, as he is a good guy with no marks against him. Yet, Paris has made eyes at Thomas on more than one occasion.
Anticipate a triangle to start, with Paris needing time to consider her option. Team Zende or Team Thomas? That is the sharp question B&B fans are pondering.
This site is a leading source for everything linked to The Bold and the Beautiful. Check back at Soap Spoiler regularly for B&B spoilers and news!