The Bold and the Beautiful Spoilers: Finn Survives Syringe, Manipulates Sheila As She Loses It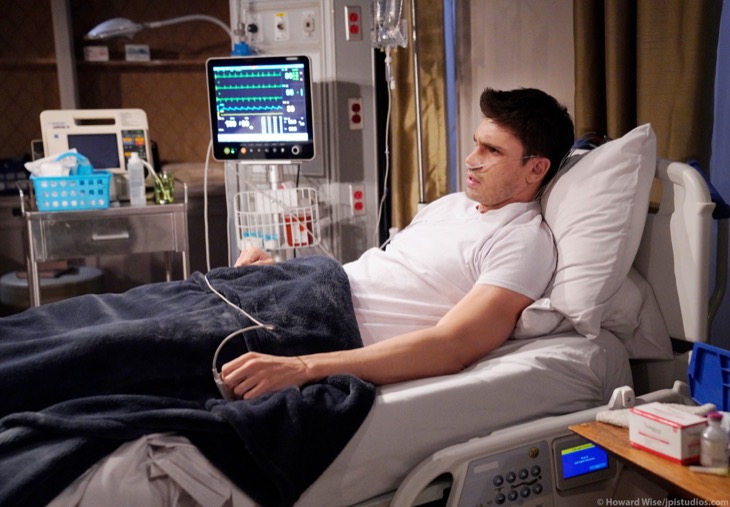 The Bold and the Beautiful spoilers reveal Finn surviving Sheila's latest attack and coming back stronger than ever knowing how he is going to beat her.
The Bold and the Beautiful Spoilers: Finn Plays With Sheila's Mind
After surviving Sheila Carter (Kimberlin Brown) accidentally sticking him with a syringe, John 'Finn' Finnegan (Tanner Novlan) realized the best way to beat a crazy person is to play with their mind and emotions.
Although she is a sociopath, Sheila does have feelings when it comes to her various offspring. Of course, that does not make her a good mother — just as Mary Warrick. But it does make her a person who at least wants to do the right thing — sometimes.
Even when Sheila first saw Li Finnegan (Naomi Matsuda) with a living and comatose Finn, she insisted he get to a hospital right away because she knew that was best for him. But then the crazy took over and here we are.
Finn Knows What He Has To Do
Finn didn't have much luck working on Mike Guthrie (Ken Hanes) and trying to get him to throw Sheila under the bus, or so he thinks. Therefore, he has to get more creative and as Sheila keep insisting that she loves him, Finn knows what to do.
"He's working what she's been saying all this time, that she loves him and she wants happiness for him," Tanner Novlan said in the August 2, 2022, issue of Soap Opera Digest. "So, he says, 'Prove it to me. This would make me happy and if what you are saying is true, you will do that.' So, he is challenging her every step of the way. He is starting to work his own manipulations in order to get out of this situation."
So, Finn is relentless as he calls out all of Sheila's sins — sins she always blames on circumstances and everyone else — and tries to break her down. Will this finally lead him back to Steffy Forrester (Jacqueline MacInnes Wood), who needs an emotional rescue in Monte Carlo that her parents, Ridge Forrester (Thorsten Kaye) and Taylor Hayes (Krista Allen), are going to provide? Stay tuned to The Bold and the Beautiful weekdays to see how this story plays out.