General Hospital (GH) spoilers and updates tease that Sarah Joy Brown experienced hair problems after leaving the soap. The actress revealed that her hair was falling out after drastic changes were made to her hair while she was on the show.
The actress made it clear that her hair issues were not brought on by stress or for leaving General Hospital. She said it was because of changing her hair color. The actress shared an old photo of her with seemingly unhealthy hair. She captioned it, "The aftermath of Claudia Z."
General Hospital – Going From Blonde to Black
Brown went on to explain that her hair broke off before this snap was taken. She continued to say that the effects of transforming her dark hair to very blonde hair were terrible and not for the "faint of heart." The actress revealed that she had to wear hair extensions for a year.
Her hair problems came at a worse time because she had to start shooting scenes for the series, Castle. Her hair looked great for her role on Castle back in 2010 thanks to the help of extensions. Brown revealed she continued wearing extensions for five years. It took that long before her hair returned to its normal state.
Brown's Hair Changes During Her Soap Stints
Fans may recall that Brown joined the cast of General Hospital in 1996 until 2001. During that time, her hair was blonde when she played Carly Benson. From 2004 to 2005, Brown donned chocolate brown hair as she played Julia Larabee on CBS' As the World Turns. After seven years, the actress returned to the soap but this time as a different character. She portrayed a dark-haired villain named Claudia Zacchara. But when she joined The Bold and the Beautiful as Agnes Jones from 2009 and 2011 and Days of Our Lives as Madison James from 2011 to 2012, the actress returned to her normally blonde hair.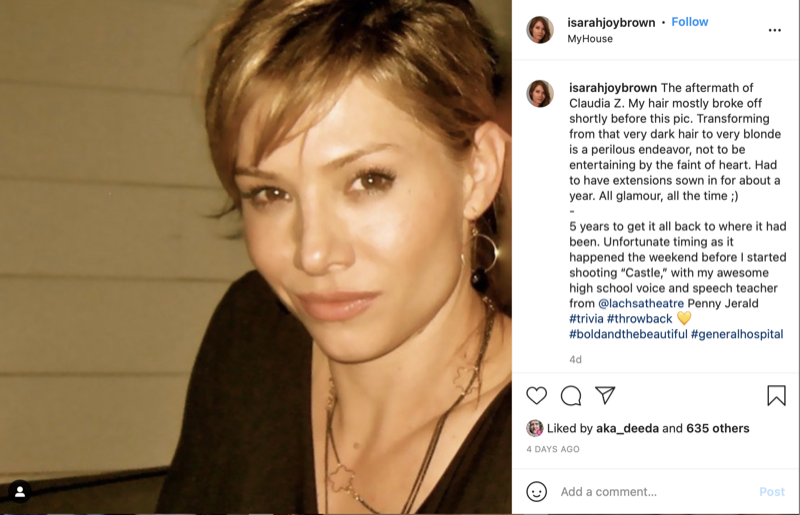 General Hospital Spoilers – Will Sonny Confront Jason?
Brown may no longer be a part of General Hospital but her character still is. Carly Corinthos, currently portrayed by Laura Wright, is in a complicated situation as of the moment.
Upcoming scenes hint that Jason Morgan (Steve Burton) will find out about Carly Corinthos' plan. He'll try to stop her from doing something that she might regret. Does this have something to do about her real feelings for Jason? Fans know that Jason and Carly agreed not to say anything about the fact their marriage was for real and not just a mob strategy.
Carly may feel uneasy for not being able to reconnect with Sonny after his return to Port Charles. If she decides to tell Sonny the truth, the latter may decide to confront Jason. Two things may happen. Sonny may understand that Jason and Carly had no idea that he was alive or the secrecy may update Sonny and argue that they should have told him the truth right away.
Be sure to catch up on everything happening with General Hospital right now. Come back here often for General Hospital spoilers, news, and updates.