Were Prince Harry And Meghan Markle Really That 'Detached And Cold' At The Platinum Jubilee?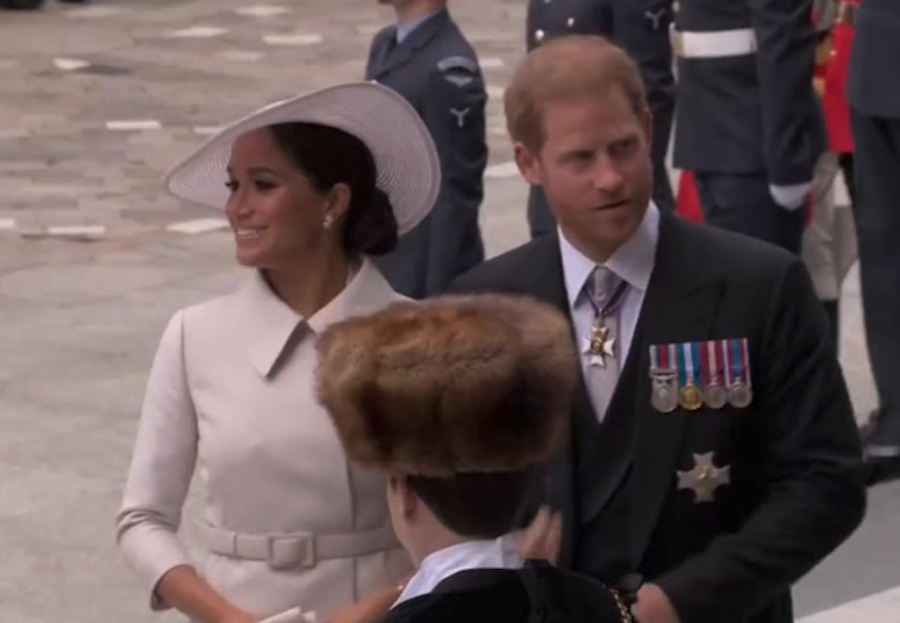 They really can't win with their critics, now can they? British Royal News says that there were some courtiers and royals behind the scenes that were apparently "horrified" by Prince Harry and Meghan Markle's supposed behavior at Queen Elizabeth's Platinum Jubilee celebrations last weekend. At least, that's what one royal expert believes. Here's what you need to know.
British Royal News: Were Prince Harry And Meghan Markle Really That 'Detached And Cold' At The Platinum Jubilee?
According to royal journalist Dan Woottoon, who often seems to be Prince Harry and Meghan Markle's biggest critic across the pond, says that some people behind the scenes were supposedly "horrified" by the Sussex's demeanor at Queen Elizabeth's Thanksgiving service at St. Paul's Cathedral. 
In his latest column for the Daily Mail, Wootton put it this way, "I've learned some members of the Royal Family and many senior courtiers were horrified at the detached and cold appearance by the exiled couple, who had also made the decision to fly out of the country before the Queen had even made her historic Buckingham Palace balcony appearance, alongside Charles, Camilla and the Cambridges, on Sunday evening."
If that weren't enough, a lot of people behind closed doors at Buckingham Palace were also supposedly on edge because of the lack of trust they have in the Duke and Duchess of Sussex. In other words, they were scared that the Sussexes might have been spying on them.
British Royal News: Harry And Meghan Accused Of Possible Spying At The Thanksgiving Service
Wootton said, "It might sound like a ridiculous concept, but sources close to senior royals have warned them to consider that Harry and Meghan could secretly record their conversations. I must be clear that there is no suggestion the couple would ever do that, but even the concern they would is illustrative of just how toxic relationships have become. There is also an ongoing fear the couple will continue to leak intimate family moments to favored American TV broadcasters."
American spies in London, huh? Clearly, Buckingham Palace did not make any comments about any of these allegations and neither have Prince Harry or Meghan Markle. 
In the meantime, let us know what you think with your thoughts in our comments section again. Be sure to catch up with everything on the British Royal Family right now. Come back here often for the British Royal Family news and updates.