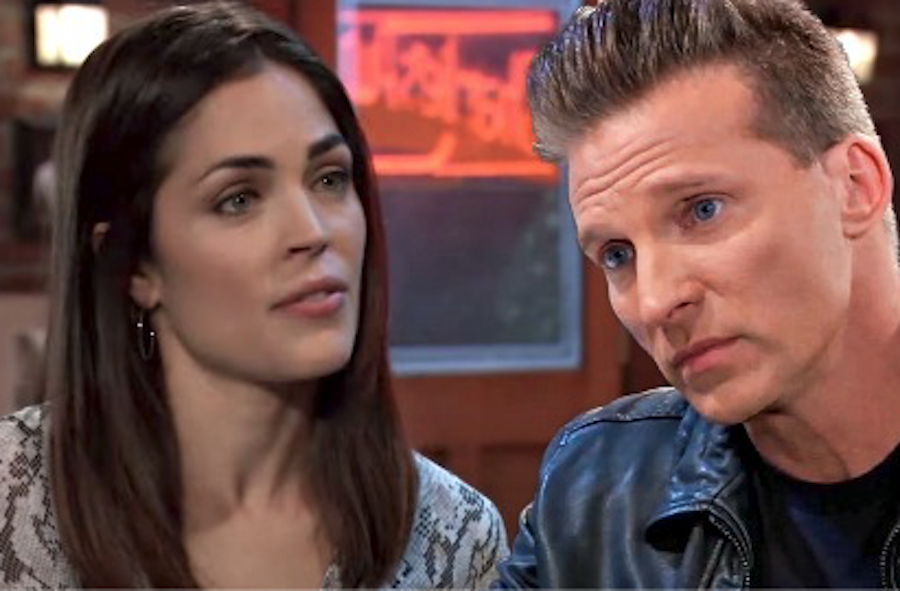 General Hospital spoilers say that while Jason Morgan (Steve Burton) has been missing from the canvas for several long months now, it looks like there are still some people that are hung up on him, and particularly Britt Westbourne. As a matter of fact, Britt's portrayer Kelly Thiebaud recently opened up to Soap Opera Digest as to why Jason is missed so much in this fictional town of Port Charles. Keep reading below for everything you need to know.
General Hospital Spoilers: Here's Why Britt Can't Get Over Jason
Kelly says that one of the biggest reasons why Jason was so important to Britt because he was there for her when she was dealing with her Huntington's diagnosis during their short-termed relationship. She put it this way, "I've read a lot from fans guarding the relationship between Britt and Jason and I think there's an element of it that people aren't acknowledging, which is that he was there with her through that terrible time when she found out she had Huntington's. I think with anyone in life, when you're going through something so heavy and life-threatening, that whoever's there by your side, it means so much to you to have them. Especially for a character like Britt, who hasn't really had that, even from family — she hasn't really had someone be so genuine and so loving and protective and supportive of her."
Britt continued, "Even though it was a short-lived thing, the impact of that meant so much to her, and that is what has caused this grief and kind of not being able to move on. And it's fear, too; it's like, you have this terminal illness and how do you open up your life to someone? How do you fall in love with someone knowing what's waiting for you down the road? I think because it is such an ugly disease, what happens to a person, she's also thinking about that. They're going to see this whole other side of her that she can't control. It's very fear-based."
General Hospital Spoilers: Britt's Still Got Jason On Her Mind
That said, Kelly added that she doesn't think Britt is lusting over Jason the way that some fans think.  "I definitely don't think she's, like, lighting candles and having a meditative moment of remembrance of the one time she had sex with Jason! I don't think that's happening! I wouldn't say Britt is pathetic by any means. I just think she fell in love and it was a very whirlwind, meaningful, genuine experience and she just feels like it's never going to happen again," she added.
Of course, fans will have to tune in to find out what will happen next! Let us know what you think by leaving us a line with your thoughts in our comments section below. General Hospital airs weekdays on the ABC network. Check your local listings for times.
Be sure to catch up with everything on GH right now. Come back here often for General Hospital spoilers, news and updates.