The Young and the Restless Spoilers: Baby Dominic's Brother to the Rescue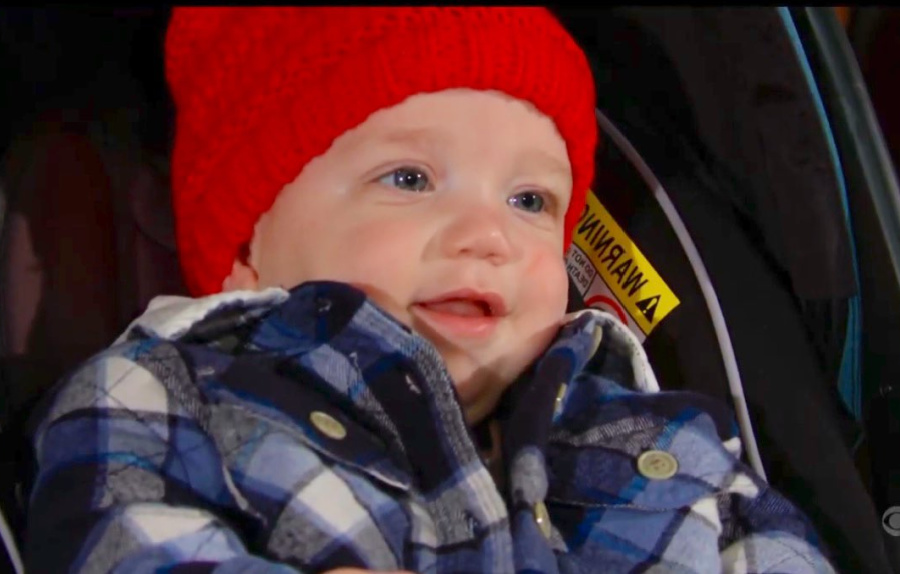 The Young & the Restless (Y&R) spoilers are bursting at the seams. What started out as whispers a few weeks ago has now turned into boisterous rumbles. We Y&R fans are almost certain Devon Hamilton (Bryton James) is not the biological father of Baby Dominic Chancellor (River and Rainn Ware). According to all the Y&R spoilers chatter we are thinking Dr. Stich Rayburn is the Baby-Daddy.
The Young and the Restless Spoilers – When Science and the Soaps Collide
Y&R spoilers will most probably reveal through Dr. Nate Hastings (Sean Dominic) the bio-scientific fact that you cannot donate bone marrow to a relative if you are not a match. Abby Chancellor (Melissa Ordway) is not a match for Baby Dominic(River and Rainn Ware), someone can be a relative and not be a match. However, someone else can be a NON-relative and yet be a complete match. This someone is called a matched unrelated donor. So, us Y&R Fans still say, "Devon you are NOT the father!" Nice try you CBS Young and the Restless writers, but WE GOT YOU!
The Young and the Restless Spoilers – Hey Stitch! Remember when…?
Y&R spoilers take a look back at the life of Dr. Stitch Rayburn (Sean Carrigan). The "good" doctor came to Genoa City in the summer of 2013. And as they always do, the writers spoon fed us his baggage-filled backstory with all of its tentacles. This included an estranged wife and son that were living in Australia. And in his then current story we watched him switch from woman, to woman, to woman.
Y&R Spoilers – So here is What We Know
We know that Dr. Stitch (Sean Carrigan), is no stranger to the law. He was arrested for fraudulently representing himself as a LICENSED medical doctor by his patient Jeffrey Bardwell (Ted Shackelford). You remember Jeffrey, right? He was the husband of Gloria Abbott Bardwell (Judith Chapman). We know that Stitch is no stranger to hacking into medical files and paternity information. He did that when his love interest Victoria Newman (Amelia Heinle) became pregnant with a baby that turned out not to be his. He has most likely done some "whacking" and hacking in this story line too.
The Young and the restless Spoilers – Dr Stitch Finally Stops Switching
Y&R spoilers remind us that Stitch (Sean Carrigan) marries Abby Newman (Melissa Ordway). When his Ex-wife Jenna Kieran (Stephanie Lemelin) dies in a car crash in Australia, his son Max Kieran (Jared Breeze) is sent to live with him. Max is deeply traumatized by the death of his mother and is seriously in need of mental help. He is ten years old and all he understands is that Abby Newman (Melissa Ordway) was on the phone arguing with his mother when their car crashed. Max did not want Abby to be his stepmother. He blamed her for the death of his mom. When Abby got pregnant Max devised a plan that caused her to fall and lose her baby.
The Young and the Restless Spoilers – It's What If…Time – Who will Save Baby Dominic?
The Y&R spoilers have revealed that Devon Hamilton (Bryton James) is a complete match. But what if Stitch Rayburn (Sean Carrigan) has gotten wind of the dire situation and is coming back to face the music, and to claim and save his young son, Baby Dominic ( River and Rainn Ware)? Could Stitch be bringing his older son Max (Jared Breeze) with him? What if Max is a match? By now he would be in his very early twenties. What if he is willing to be the donor as a way of making amends for what he did to Abby? Or what about Chance Chancellor (Connor Floyd)? Could he miraculously be the father of Baby Dominic? We all know how these Y&R writers are. They can twist and turn this storyline any way they want. We will just have to keep watching and checking the Y&R spoilers to find out.
Be sure to catch up on everything happening with Y&R right now. Come back often for The Young and the Restless Spoilers, news, and updates