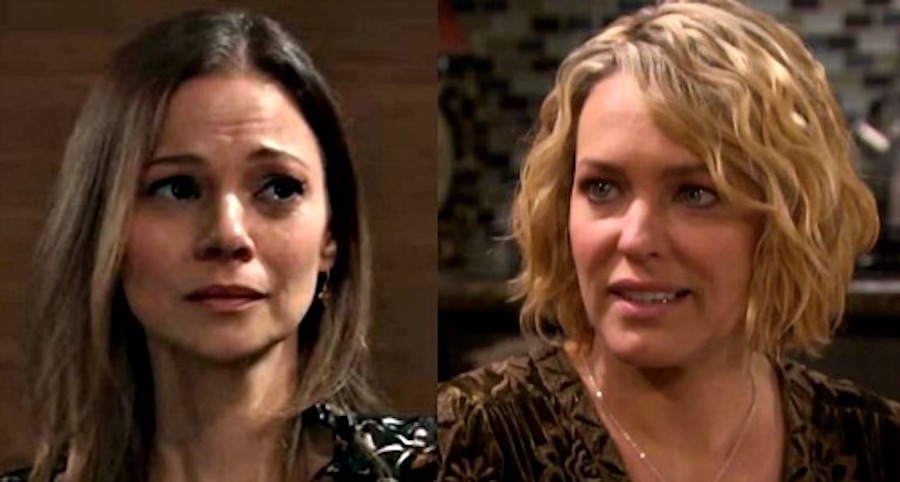 Days of Our Lives spoilers say that Ava Vitali (Tamara Braun) certainly won't like it when she hears about this. That's because Nicole Walker (Arianne Zucker) and Rafe Hernandez (Galen Gering) about to spill the beans about the affair they've been trying to hide from everyone. Keep reading below for all of  the spoilers you need to know.
Days of Our Lives Spoilers: Rafe And Nicole Have A Confession To Make
When Nicole shows up to show her support for Rafe, who is currently awaiting trial, she's surprised to see Ava there. After all, it is Valentine's Day and Ava wants to visit the man that currently has real estate in her heart. She shows up with a plate of cookies and looks like she wants to be there for the most part. However, she's also there to save face and is a little surprised that Nicole is there as well."
Days of Our Lives spoilers say though that because Nicole can't bear to stomach Ava's fakeness anymore, she confronts her about who set up Rafe. She wants to cut to the chase and hear Ava tell the truth but of course, the beautiful brunette plays it off like she doesn't know what's going on. 
Speaking to Soap Opera Digest in a new interview, actress Tamara Braun, who plays Ava Vitali on the hit NBC soap puts it this way, "Why would Ava do such a thing? Maybe Nicole should tell her why she thinks Ava would do something like that."
Days of Our Lives spoilers also say that Ava's reaction prompts Nicole and Rafe to tell the truth about their affair but at the same time, they suspect that she already knows it. But Ava erupts when she hears about it. Tamara continues, "She's like, 'How dare you do that to me. I trusted you. You were my best friend and my boyfriend.' Ava's so hurt. Hell hath no fury like a woman scorned is very apropos for Ava Vitali."
Days of Our Lives Spoilers: What's Next For Rafe?
That said, Rafe goes to court while Nicole vows that she'll do whatever it takes to make sure that she finds proof that Rafe is innocent. Until Ava declares that she'll do the exact opposite.
Of course, DOOL fans will have to tune in to find out what will happen next! In the meantime, let us know what you think by leaving us a line with your thoughts in our comments section below. Days of Our Lives airs weekdays on the NBC network. Check your local listings for times.
Be sure to catch up with everything on DOOL right now. Come back here often for Days of Our Lives spoilers, news and updates.