The Bold and the Beautiful Spoilers: Sheila Scores Huge Victory Over Brooke – But Is Villain's Downfall Coming?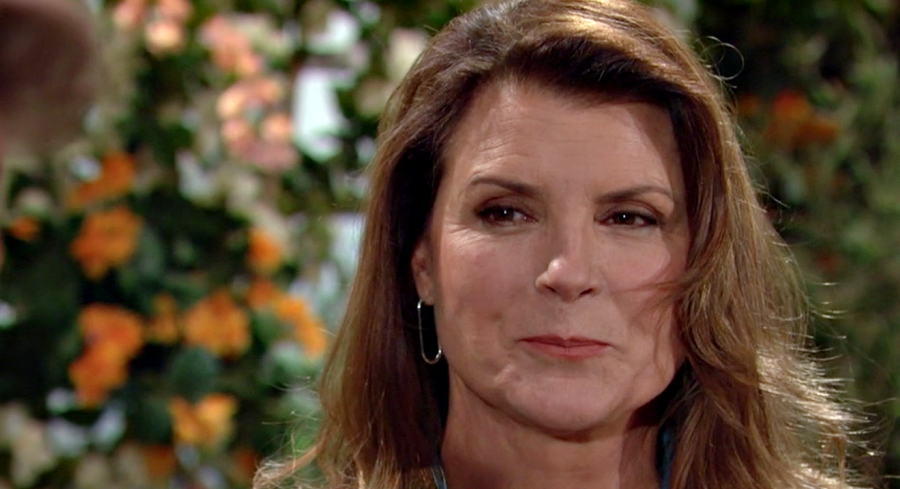 The Bold and the Beautiful spoilers document that Sheila Carter (Kimberlin Brown) is reveling in Brooke Logan Forrester's (Katherine Kelly Lang) defeat. But how can Brooke's downfall help Sheila realize her goal to bond with John Finn Finnegan (Tanner Novlan) and his son?
Taylor Hayes (Krista Allen) has been targeted by Sheila, though Allen's character does not realize that. Even with her famous status as a psychiatrist and uncertainty of Sheila's endgame, Taylor has no idea that Sheila engineered Brooke's night of drinking and kissing on the last day in December of last year, otherwise known as New Year's Eve.
Bold And The Beautiful Spoilers – Brooke Logan Forrester's Many Detractors
Unless Ridge Forrester (Thorsten Kaye) changes his mind, he is done with Brooke. That means Carter Walton (Lawrence Saint-Victor) should be told to prepare and file divorce paperwork.
Fans should not expect Shauna Fulton (Denise Richards) to swoop in and take Brooke's place. That was the scenario when Ridge last had paperwork drawn up.
As a side point, it would be intriguing to see Shauna and Sheila trade Brooke notes. Shauna is no villain, but she does share a dislike of Ridge's multiple-time wife with Sheila and, for that matter, with Taylor as well.
Bold And The Beautiful Spoilers – Taylor Hayes Is Influential
Taylor may reconcile with Ridge though to remarriage. Sheila's most recent unannounced visit to Taylor's office served a meaningful purpose.
Sheila gloated about Brooke having seemingly sabotaged herself. Little did Taylor know that Brooke's alcohol supplier was standing in plain sight.
It is reasonable to wonder if Taylor reconciles her family if she will further her charitable stance? She is the reason why Steffy Forrester Finnegan (Jacqueline MacInnes Wood) and Finn agreed to allow Sheila to attend the Christmas Eve party at the cliff house.
Bold And The Beautiful Spoilers – Steffy Forrester Finnegan Softens Stance?
Steffy is never going to embrace Sheila as her mother-in-law. But she might be willing to allow supervised visits at the cliff house or elsewhere if Taylor backs that plan.
Hayes Forrester Finnegan (Samantha Worden and Piper Harriet) is Sheila's grandchild. Writing Jack Finnegan (Ted King) back into the plot would seem natural, as his relationship with Finn was unresolved when this character was last seen.
Taylor's family reclamation could provide emotional transference momentum (ETM), with Sheila being the beneficiary. And if readers think that ETM is a soapy invention within this story, they would be right. But all is also possible when it comes to Brown's indelible character on B&B.
This site is a leading source for everything linked to The Bold and the Beautiful. Check Soap Spoiler regularly for B&B spoilers and news!