The Young and the Restless Spoilers: Dominic's Bone Marrow Crisis Addressed – But Paternity Question Persists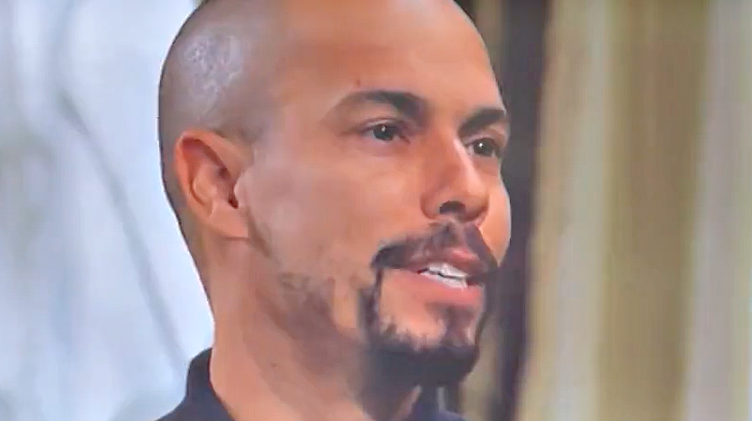 The Young and the Restless spoilers document that Dominic Newman Abbott Winters Chancellor (Rainn and River Ware) appears to be okay. The bone marrow issue was quickly addressed, as Devon Hamilton (Bryton James) proved to be a one-hundred percent donor match.
However, soap fans are savvy. So, along with the recent buzz, people are wondering how Devon could be a perfect match since he is Dom's dad. Unless he is not?
TPTB presented a scene at the Chancellor mansion where Dr. Nate Hastings (Sean Dominic) was accompanied by a medical expert who told Devon and Abby Newman Abbott Chancellor (Melissa Ordway) details about Dom's condition. That provided the characters and viewers with specific information, including biological parents being fifty-percent bone marrow donor matches to their off-spring.
Young and the Restless Spoilers – Abby Newman Abbott Chancellor Is The Mom
Abby was a fifty-percent match to Dom. That made sense, as she is his biological mother.
So, why would Devon be a one-hundred percent match? That goes against the medical information that was provided. However, Nate did not offer what should have been a naturally surprised reaction.
It is fair to believe that everyone is happy for Dom. The baby's health issue is likely going to be resolved. But then the paternity issue has to be re-addressed, right?
Young and the Restless Spoilers – Chance Chancellor A Doomed Man?
A sense of doom has existed in Chance Chancellor's (Conner Floyd) regard for an extended period of soapy time. Donny Boaz' (Chance) cast exit led to an extended period where a backstage decision was mulled over and then made.
Floyd's addition to the cast is noticeable. The character he plays appears to have been reversed SORAS'd (soap opera rapid aging syndrome). Floyd is younger than Ordway, and now Chance is too.
Abby has been positioned as the stable force in this relationship, which was not true in the past. The flip includes Chance's wondering man status, as he searches to find himself. The writing staff needs to avoid furthering this type of cliche by ensuring that coming therapy sessions produce results.
Young and the Restless Spoilers – Chancellor Marriage Stable Or Slipping?
Devoted fans recall that Abby fell in love after Chance descended from the ceiling of The Grand Phoenix hotel during a hostage storyline. Their old-school courtship was sweetly plotted and played.
Their wedding included a cool wink, as Ordway's real-life husband, Justin Gaston (Chance), filled in for a then-ill Boaz. The honeymoon provided comic relief, Boaz returned to the cast for a brief return stay, Chance got the infamous Agency call, and off to Spain, he went.
Floyd returned as the new Chance, with Abby soon realizing that her husband had changed. The fragility of this marriage is a real concern for fans of the couple. The presumed paternity issue would be yet another crisis for Abby and Chance to handle as well.
This site is a leading source for everything linked to The Young and the Restless. Check Soap Spoiler regularly for Y&R spoilers and news!