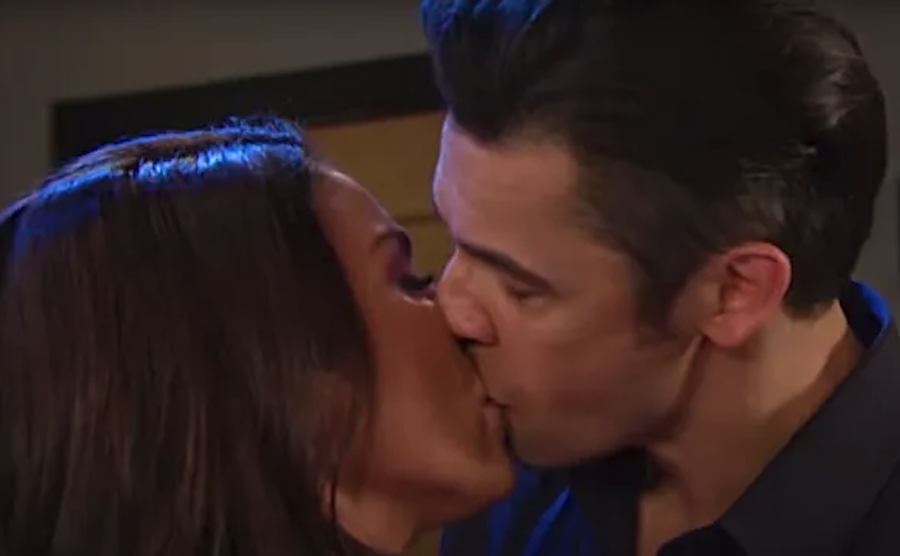 Sarah Horton who? Days of Our Lives spoilers say that in a move that really doesn't surprise anyone, it looks like Chloe Lane and Xander Kiriakis are about to give in to temptation. Everyone certainly knows what that means, right? Keep reading below for everything you need to know.
Days of Our Lives Spoilers: Chloe and Xander Give In To Temptation
Let's just say that these two are definitely feeling that spark in between them. There's no doubt that both Chloe and Xander can't deny that heated attraction between them as they are about to succumb to their desires and get very busy between the sheets! This definitely means that Xander has managed to get Sarah Horton off his mind (even if it's just temporary) while Chloe is certainly not thinking about her own ex, Brady Black. Or at least, for now. Things are certainly going to change once Sarah Horton gets back to Salem, right? 
Well, Days of Our Lives fans sure do have a lot to say about this storyline on social media. Some have commented with, "Of course this was going to happen right before Sarah comes to town. But I don't think Xander is in love with Chloe. He was always pinning for Sarah. This is nothing more than just a little distraction for him. Plus, I don't see how these two could be a long term couple. They are just way too different," along with, "Imagine if Xander gets Chloe pregnant. That would be hilarious. It might actually be possible, given her age, too. With Sarah Horton pregnant, it would definitely be a different twist on the baby daddy story."
Days of Our Lives Spoilers: What's Next For Xander?
Another fan wrote, "I like these two together but at the same time I don't like them together. But because they are both ridiculously good looking so at least their sex scenes are going to be hot. Thanks to the Days of Our Lives writing team for at least giving us that."
Needless to say, Days of Our Lives fans will simply have to tune in to find out what will happen next. Watch this space. In the meantime, let us know what you think by leaving us a line with your thoughts in our comments section below. Days of Our Lives airs weekdays on the Peacock network. Check your local listings for times.
Be sure to catch up with everything on DOOL right now. Come back here often for Days of Our Lives spoilers, news and updates.