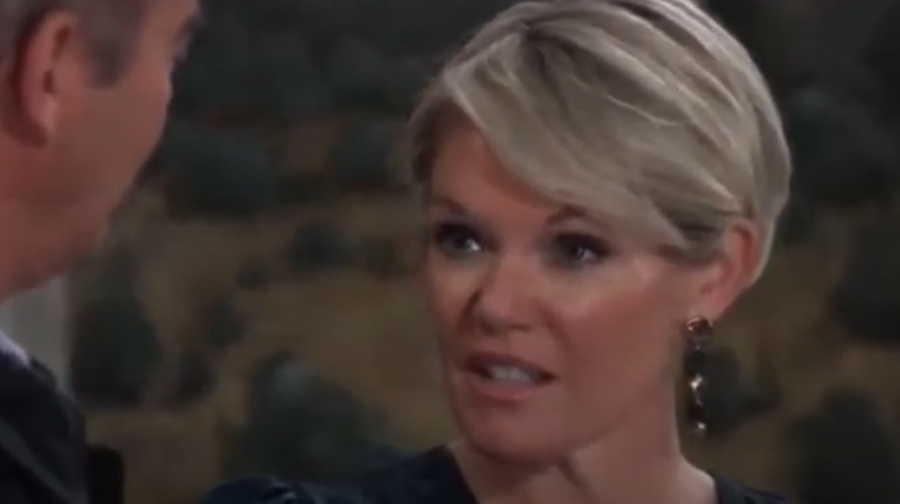 General Hospital spoilers say that if there's one person who is truly benefiting from this Sonny Corinthos (Maurice Benard), Carly Corinthos (Laura Wright) and Cynthia Watros (Nina Reeves) love triangle, it's Ava Jerome (Maura West). That's because she gets to sit back and enjoy the you-know-what show that is happening before everyone's eyes. And yes, she's cackling while eating a bowl of popcorn, too! Here's what you need to know.
General Hospital Spoilers: Ava Reacts To Carly's Marital Woes With Sonny
According to the latest General Hospital spoilers, Nina stopped by Wyndermere to give Ava the scoop about what's been going on. She admits that it was Carly who caught her and Sonny in bed and that her reaction was anything but pleasant. Needless to say, Ava was thrilled with the news. However, Nina did say that Sonny thought that his marriage was over and at the same time, she doesn't like to see him upset. Ava added that with time, Carly and Sonny will find their way back together while Nina said that she doesn't want to take advantage of his pain. Either way, Ava tells Nina to be on standby, anyway.
Of course, it didn't take long at all for General Hospital fans to weigh in on the matter. Many of them commented with, "Disgusted (but drawn to at the same time)…kind of like a train wreck…the Nina/Sonny sexcapade. BUT…by far the best part of Nina and Sonny is Queen Ava and her glee at their union. Absolutely adore her," along with, "It is so disappointing that Ava isn't put on a pedestal as much as Carly is on this soap. Let's face it, it's Ava who is the true queen of Port Charles. I adored her during this episode."
General Hospital Spoilers: Should Sonny And Carly Get Back Together?
And then there was this comment: "Sometimes seeing the reactions to Carly vs other women I get the same feeling Don Corleone had as he spoke over Don Tommasino. Sonny still confused as to why Carly wants to get a divorce over a little infidelity is bordering on comedic at this point. They were on a break!"
That said, fans will have to tune in to find out what happens next for her character on the soap! Let us know what you think in your comments section below. Also, don't forget that General Hospital airs weekdays on the ABC network. Check your local listings for times.
Be sure to catch up with everything on GH right now. Come back here often for General Hospital spoilers, news and updates.