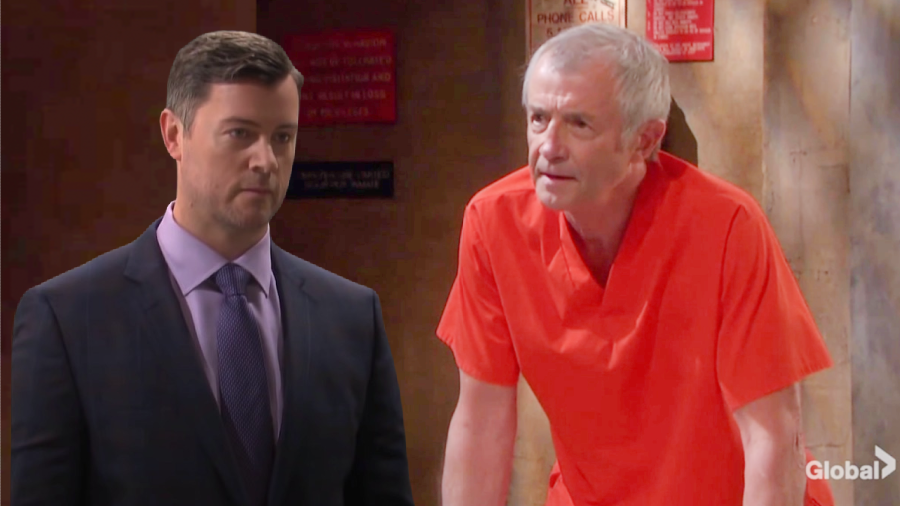 Days of Our Lives spoilers for February sweeps indicate that EJ DiMera (Dan Feuerriegel) sees a familiar face in prison. EJ meets his prison cellmate, who just happens to be Clyde Weston (James Read). As fans recall, Clyde is the person who was responsible for EJ's death years ago. Tensions will escalate in prison, but just how far and what will be the outcome?
Murder and Resurrection
DOOL spoilers reveal that years ago, EJ and Sami DiMera (Alison Sweeney) were going through a rough patch. Separated, the two decided to get back together. Then, Sami was horrified to discover her husband was dead.
However, Kristen DiMera (Stacy Haiduk) snuck in and injected her brother's corpse with a green substance. As fans now know, it was Dr. Wilhelm Rolf's (William Utay) resurrection injection. Then, Sami thought that EJ was sending her clues that he was alive. Sami spent a long time dragging her children around the world in search of EJ. Eventually, Sami found EJ but he wasn't in the best shape. She stuck by him and helped EJ recover.
DOOL Spoilers: False Imprisonment
EJ's return to Salem hasn't gone exactly the way he thought it would. Not only did he find out Sami and Lucas Horton (Bryan Dattilo) had an affair, but she was held hostage for three months. EJ was convicted of the crime even though he had nothing to do with it. Now EJ must go to prison and has been sentenced to 10 years.
Facing Clyde Weston
Days of Our Lives spoilers reveal that fans will see EJ in prison. When EJ is brought to his cell, he sees a familiar face. Not only is it a familiar face, but it is the man who killed him all those years ago. During February sweeps, fans will see how the cellmates deal with each other. It is teased that tensions will escalate behind bars.
Days of Our Lives Spoilers: Violent Prison Showdown
Head writer Ron Carlivati explained what fans can expect from EJ and Clyde during February sweeps.
"EJ is wrongly convicted of kidnapping Sami, and when he arrives in his cell, his cellmate kind of rolls over on his bunk, and we see that it's Clyde Weston. The significance of that, as a lot of fans, are aware, is that Clyde was responsible for EJ's 'death' several years ago, so when EJ comes face to face with Clyde, we finally get to play it out. It will lead to a potential escalation of bad feelings between the two."
EJ is already furious that he has to pay for a crime he didn't commit, especially since he knows Lucas is the one who really kidnapped Sami. Meanwhile, Clyde has a lot of connections in and outside of prison. So, when things escalate between the foes, who will end up winning? Could one end up killing the other, or will they eventually join forces to defeat a common enemy?
Be sure to catch up on everything happening with DOOL right now. Come back often for Days of Our Lives spoilers, news, and updates.