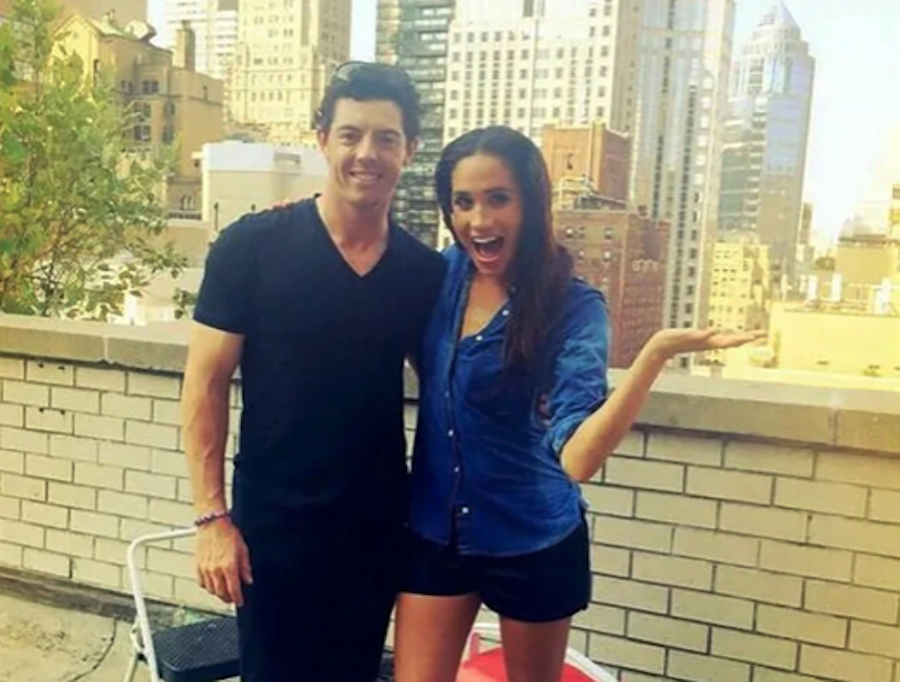 British Royal News says that Meghan Markle once tried to date golf star Rory McIlroy. At least that's what Tom Bower says in his new book, Revenge. Here's what you need to know.
British Royal News: Meghan Markle Reportedly Tried To Date Rory Mcllroy
Bower writes in his book, "McIlroy had just split from his blonde fiancée, Danish tennis ace Caroline Wozniacki, and was reported to be chasing brunettes."
This was back in 2014, when Rory had filmed an Ice Bucket Challenge video with Meghan Markle. Soon after, the two had enjoyed a drink at the Fitzpatrick Hotel, where the golfer was staying. 
"The following morning, McIlroy arrived [at Ridgewood Country Club] 30 miles away to play in a new competition. Worse for wear after a hectic night, he fell back to 101st place," Bower writes in his book. "Nevertheless, he refused to sleep as usual near the golf course to be ready the following day. Instead, he drove back to New York to see Meghan. His performance suffered."
The following week Meghan opened up about Rory in her blog, The Tig. She gushed, "Ah yes. Rory McIlroy. THE Rory McIlroy. Whispered (and shouted) to be the foremost golfer in the world, loved by Tiger, respected by Palmer, and dumper of frigid water on to my lone head for the ALS Ice Bucket Challenge. That Rory McIlroy. He is a force who has the propensity to actually work hard and play hard — relishing intense practices to substantiate his title, embracing nights of sipping Opus One (his bold and impressive choice of wine) and indulging in group dinners at Cipriani — for the balance, of course."
British Royal News: Meghan Wanted To Date A Golfer
She continued, "And yet, beyond his work/play ethic, the most endearing quality of this man is his character – as real and honest as they come, appreciating a simple smile, never shunning a fan photo, enjoying a plate of pasta with veal ragu, and expressing a love for his parents that is rarely seen in men his age. Or at any age, to be honest. He is not just the real deal … he is real. And perhaps that is what makes him even more cherished."
So far Meghan Markle herself has not made any comments about the matter.
In the meantime, let us know what you think with your thoughts in our comments section again. Be sure to catch up with everything on the British Royal Family right now. Come back here often for the British Royal Family news and updates.