Days of Our Lives Spoilers: Chad and Xander Join Forces, Double Rescue Ahead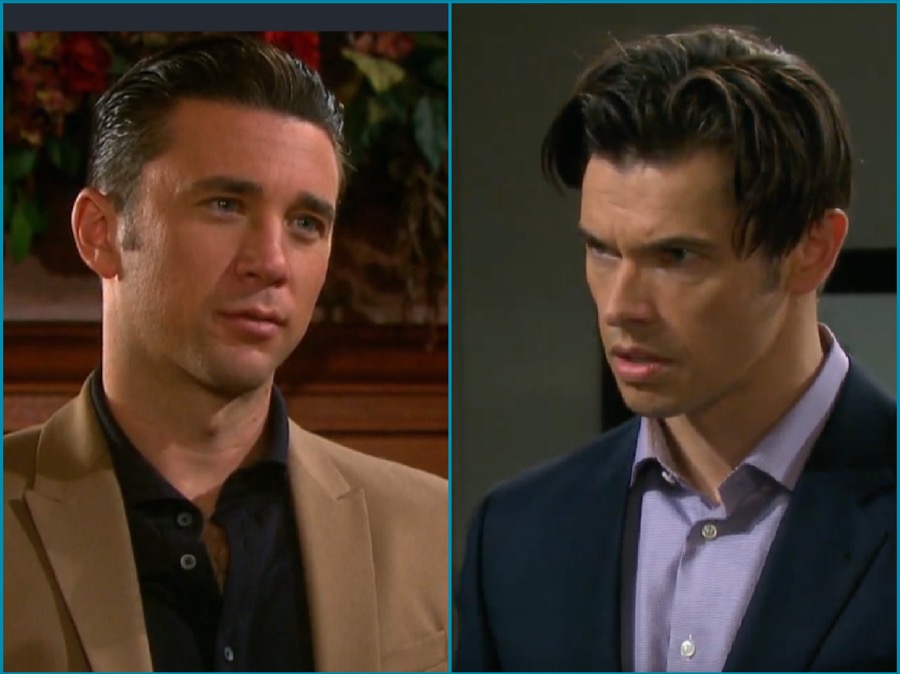 Days of Our Lives (DOOL) spoilers reveal that Abigail DiMera (Marci Miller) gets too close to the truth. To stop her from saving Sarah Horton (Linsey Godfrey), which would lead to another felony for Kristen DiMera (Stacy Haiduk), Abigail is kidnapped. Chad DiMera (Billy Flynn) and Xander Cook (Paul Telfer) worry about Abigail. Will they join forces to save both Sarah and Abigail?
Abigail DiMera Gets Too Close
DOOL spoilers reveal that Abigail learned from Maggie Horton Kiriakis (Suzanne Rogers) that Sarah was back in Salem. As Abigail thought about what Maggie told her about Sarah, she made a realization. Between Kate Roberts' (Lauren Koslow) story and Xander's information, Abigail figured out that Sarah isn't acting like herself because she literally is another person.
In Thursday's episode, Gwen Rizczech (Emily O'Brien) posed as Sarah. Gwen was able to fool Maggie and Xander. However, Abigail stopped "Sarah" from going to the airport. Abigail flat out accused Sarah of being someone else.
Days Of Our Lives Spoilers: Salemite Vanishes
This will pose a real problem for Gwen, Ava Vitali (Tamara Braun), and Kristen DiMera (Stacy Haiduk). During the week of January 24, Abigail learns she is on a deserted island. It seems that Abigail gets kidnapped so the truth about Sarah doesn't come out.
Chad DiMera's Concern
Days of Our Lives spoilers reveal that Chad will know his wife hasn't come home. Chad becomes increasingly worried about his wife, especially since she was working on the mysterious Sarah Horton case. In fact, Chad recalls Abigail asking him about the DiMera pilot that suddenly quit after flying "Sarah" to her destination.
Days of Our Lives Spoilers: Double Rescue?
Chad won't be the only one that gets worried about Abigail. Xander also becomes concerned when he can't find her anywhere. Chad and Xander will discuss Abigail's disappearance. It's quite possible that they will join forces to track her down.
Meanwhile, Gwen struggles to keep the truth from getting out. It seems that Gwen will be battling her conscience. Unlike Ava and Kristen, Gwen actually feels bad about what she has done. That could be the key to Sarah and Abigail both being rescued, as well as a redemption story for Gwen.
Even though Gwen is considered a villain, it seems her character is about to go through a transformation for the better. Maybe Gwen helping save Abigail and Gwen could be a start to the sisters developing a real relationship?
What do you think is going to happen when Abigail disappears? Will Gwen confess what she's done? Could Gwen lead Chad and Xander to rescue both Abigail and the real Sarah Horton?
Be sure to catch up on everything happening with DOOL right now. Come back often for Days of Our Lives spoilers, news, and updates.