General Hospital Spoilers: Peter Reactivates Drew, Forces Him To Kidnap Louise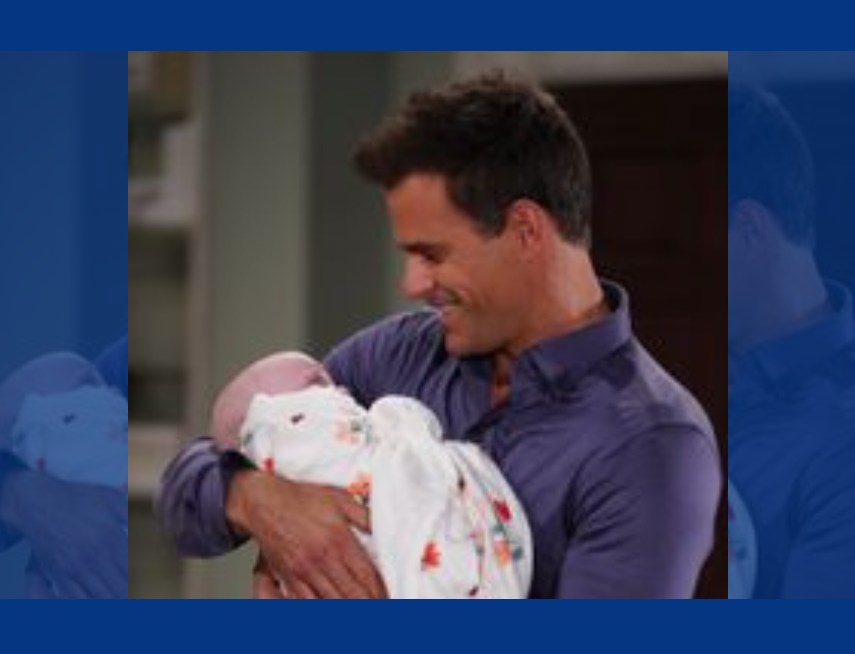 General Hospital (GH) spoilers tease that Peter August (Wes Ramsey) might find a way to reactivate Drew Cain (Cameron Mathison) and force him to kidnap Louise Jones (London and Jett Prinzo-Berendt) in an upcoming episode of General Hospital!
General Hospital Spoilers – Victor Cassadine Still Wants The Key To Controlling Drew Cain
General Hospital viewers will recall that Victor Cassadine (Charles Shaughnessy) still wants the key to controlling Drew, and Peter said he'd give it to him in exchange for Victor finding Louise and delivering her and Maxie Jones (Kirsten Storms) to him! General Hospital viewers will remember Peter tried to force Liesl Obrecht (Kathleen Gati) into a similar scheme, but she refused to endanger her former daughter in law and her child! Exactly what Victor wants with the key is a mystery – does he want to reactivate him as the super soldier Helena Cassadine (Constance Towers) tried to make him, or his motive more pure? Maybe he wants the key so he can destroy it, rather than use it! But the key was buried with Jason Morgan (Steve Burton) in the tunnel under Cassadine Island-how would Peter have the key?
GH Spoilers – Perhaps Peter August Has A Spare Set Of "Keys!"
General Hospital viewers have to consider that Peter has a spare set of "keys" – after all it was the commands that were used that activated and deactivated Drew's conditioning, the tarot cards were only the triggers. General Hospital viewers will recall it is exactly the same process that Liesl used on Dante Falconeri (Dominic Zamprogna) to activate his conditioning to kill Peter, only his trigger was a pen clicking! Peter could get a new set of tarot cards anywhere, unless the artwork on the cards was unique to that particular set of cards, but that is highly doubtful! But the problem is, Victor doesn't know where Louise is either – however, Drew had vowed to Maxie that he would help to find Louise! Drew wanting to find Louise may be crucial to Peter's plot to reactivate him to kidnap Maxie and Louise!
General Hospital Spoilers – Drew Cain May Hear Bailey Quartermaine Tea Spilled
General Hospital viewers know that Louise has been hidden in plain sight as Bailey Quartermaine for her whole life, which is several months now, as she was given to Brook Lynn Quartermaine (Amanda Setton) shortly after birth! General Hospital viewers know that with Drew living in the Quartermaine mansion along with Brook Lynn, Harrison Chase (Josh Swickard) and of course Bailey, he could easily overhear them talking about Bailey being Louise! Drew will offer a sympathetic ear during the week of January 10, although that could be to Elizabeth Baldwin (Rebecca Herbst) over Jake Webber's (Hudson West) emotional problems and the possibility he sabotaged her first date with Hamilton Finn (Michael Easton). But it could just as easily be to Brook Lynn and Chase, or Maxie, and promise his protection over the baby and pledge his silence, giving Louise an extra layer of protection from Peter's devious plots!
GH Spoilers – For Drew Cain To Kidnap Louise Jones Under Activation, He Has To Know Where She Is
General Hospital viewers know that Drew will mean it when he promises to keep Louise's identity and location a secret, and pledge his protection over her, but that will fly out the window if he's reactivated! General Hospital viewers also know that obviously, for Peter to reactivate Drew's conditioning and order him to kidnap the baby, Drew has to know her location, but the conditioning will override his promises! However, there is a good possibility that he can fight it when he considers his love for his own daughter, Scout Cain (Ella Ramacieri) which is what kept him going during his time in captivity. If Peter's strong desire to kidnap his daughter, and likely Maxie with her is what brought him out of his coma, then there is a chance that Drew's strong love for his own daughter is what will keep him from kidnapping Peter's!
Be sure to catch up on everything happening with GH right now. Come back here often for General Hospital spoilers, news, and updates.