The Bold and the Beautiful Spoilers: Taylor's Tough Decision – Tip Brooke Off or Let Sheila Roll?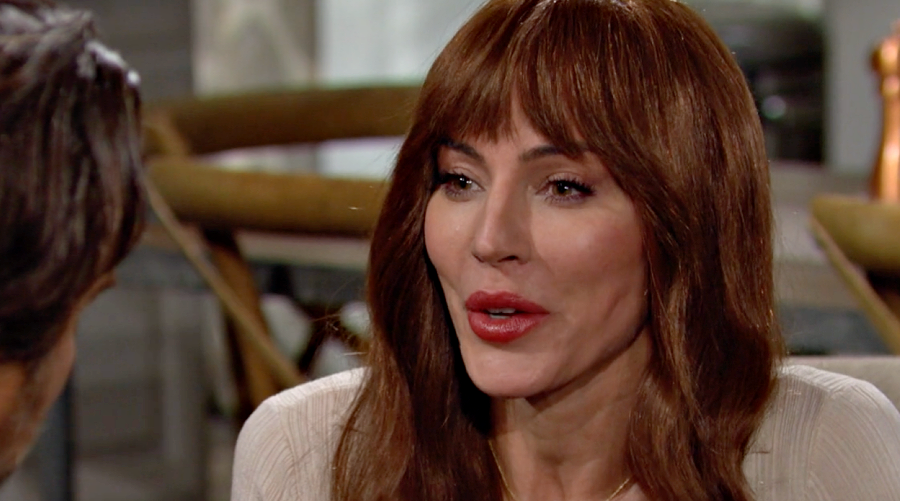 The Bold and the Beautiful spoilers document that Taylor Hayes' (Krista Allen) decision to keep an eye on Sheila Carter (Kimberlin Brown), rather than banish her as Steffy Forrester Finnegan (Jacqueline MacInnes Wood) wishes, will create opportunity in 2022.
Sheila appears incapable of eliminating her worst impulses. She was able to contain herself when Steffy slapped her on two occasions.
However, Brooke Logan Forrester's (Katherine Kelly Lang) condescending threat to keep her out of John Finn Finnegan's (Tanner Novlan) life proved too much to handle.
Sheila engineered Brooke's fall off the sobriety wagon. Taylor projects as the person who will be able to link Sheila to that cheap shot, with the pun intended toward the shots Brooke and Deacon Sharpe (Sean Kanan) did on New Year's Eve.
Bold And The Beautiful Spoilers – Brooke Logan Forrester Should Have Left
Brooke does not know when to walk away. She could have done that before launching into what proved to be a rather humiliating put-down of Sheila. Then, Brooke went lower.
Threatening a mother, who recently met her son and held her grandson, with permanent expulsion was clearly not smart.
Many people would likely be enraged by Brooke's arrogance in saying that Sheila is not allowed to be around her (meaning Brooke's) family, as though Brown's character must bow to her.
Deacon witnessed the threat and knew it meant trouble. Of course, he did not help his cause by drinking alcohol with Brooke on New Year's Eve.
Bold And The Beautiful Spoilers – Sheila Carter Had No Buffer
Being alone and having alienated countless people in Los Angeles, California, in days gone by, Sheila had no buffer when she returned to her hotel room. And so, the wild self-talk began.
Only the mind of B&B's most notorious villain could so quickly conceive of a complex plan.
Sheila seemed to also benefit from a soapy lack of employee presence at her old employer, Il Giardino, when apparently taking multiple bottles of fake and real bubbly.
But even if she bought them, what came next was Sheila at her masterful best, or worst depending upon one's take and feelings about Brooke.
Bold And The Beautiful Spoilers – Taylor Hayes Is Appreciated
During one of the moments when she talked to herself, Sheila complimented Taylor. She said that Allen's character was a wonderful woman, in forgiving her, and decided to stop by her new psychiatry office and offer a peace cactus.
Taylor, who has endured mental health issues and infamously shot Bill Spencer (Don Diamont) in the back, has sympathy for Sheila but is uncertain of her intentions.
The setup implies that Taylor will determine Sheila is linked to Brooke's latest fall.
Taylor will have a decision to make, assuming the above point is reached in the plot. She could tip Brooke off and shut Sheila down, which would also incur her wrath.
Alternatively, if Taylor chooses to say nothing, then Brooke's marriage to Ridge Forrester (Thorsten Kaye) would be further endangered. So, why would Taylor not want that endgame?
This site is a leading source for everything linked to The Bold and the Beautiful. Check back regularly on Soap Spoiler for B&B spoilers and news!