The Bold and the Beautiful Spoilers: Ridge Leaving Brooke Over Deacon – Taylor's Timing Is Great?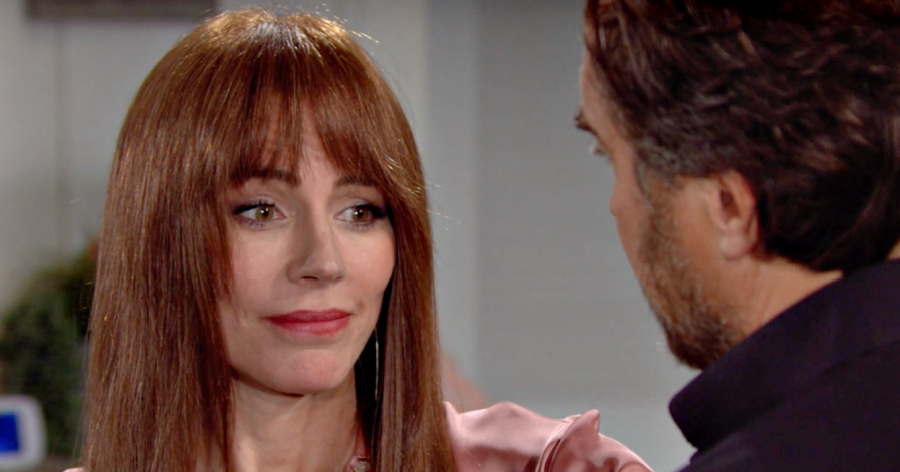 The Bold and the Beautiful spoilers document that Ridge Forrester (Thorsten Kaye) is exasperated. Brooke Logan Forrester (Katherine Kelly Lang) has made a firm decision. She is giving a pass to Deacon Sharpe (Sean Kanan), as though the past means nothing.
Ridge was perplexed by Brooke's reaction to the news that Taylor Hayes (Krista Allen) was back. His current wife then referenced Thomas Atkinson's (Matthew Atkinson) mental health issues. Both were shots at Ridge's first family.
Brooke believes that the Bridge family should rule. She is the matriarch and appears to suggest that all other connections Ridge has, especially Taylor, are beneath Bridge considerations.
Bold And The Beautiful Spoilers – Who Is Brooke Logan Forrester?
Let us start by saying who Brooke is not. She is not Ridge's first wife. The original, late Caroline Spencer (Joanna Johnson) was that.
Brooke is not Ridge's second wife. Taylor (as originally played by Hunter Tylo) was that.
Lang's character has not been married to Ridge for the longest continuous stretch of time. Taylor holds that distinction as well.
However, Brooke is arguably the greatest love of Ridge's life. But that is a subjective conclusion that may soon be tested.
Brooke is also the mother of his other son, R.J. Forrester (Anthony Turpel).
Bold And The Beautiful Spoilers – Who Is Taylor Hayes?
Tridge became the first family Ridge had that included children. Steffy Forrester Finnegan (Jacqueline MacInnes Wood), her fraternal twin, the late Phoebe Forrester (Mackenzie Mauzy), and Thomas.
Taylor represents a deep love, no doubt. The drama Ridge endured with Taylor is legendary on B&B. But hardcore fans took note of the distinction Taylor made when referencing the supportive relationship she had with the late Stephanie Forrester (Susan Flannery).
Brooke often experienced resistance, though Stephanie died in her arms in one of the most meaningful scenes in B&B's history.
As of right now, Taylor represents memories of good times. She also offers a welcoming smile that contrasts Brooke's scowl.
Bold And The Beautiful Spoilers – What Does Ridge Forrester Want?
Ridge wants his wife to respect him. Giving Deacon carte blanche is not that.
A fair compromise would have been to allow Hope Spencer (Annika Noelle) to move off the property. Hope is not a child, and Lope could have moved nearby.
The above did not happen. So, now Ridge wants to resolve this disagreement. Taylor will have a real opportunity to reclaim Tridge if Brooke has her heels dug in.
This site is a leading source for everything linked to The Bold and the Beautiful. Come to Soap Spoiler for B&B spoilers and news!