The Young and the Restless Spoilers: Sharon Sees Rey As Her Rock – Shey's 2022 Adventure?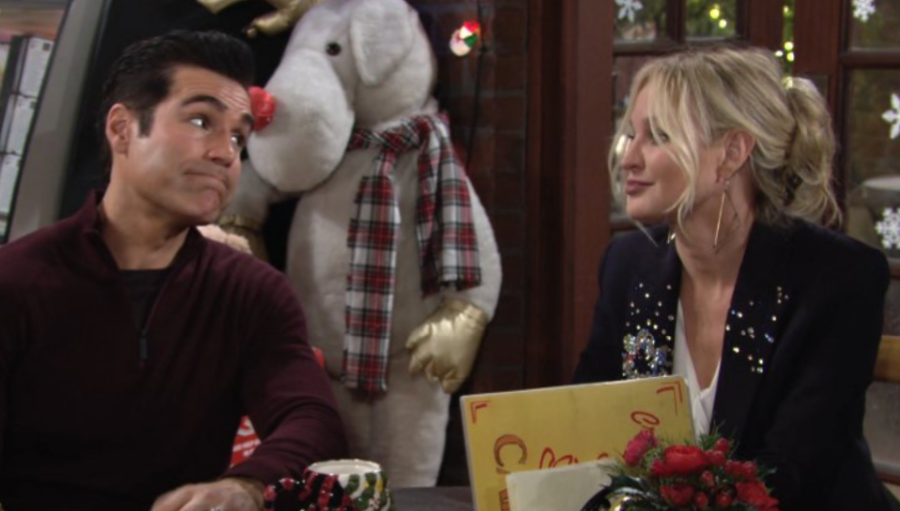 The Young and the Restless spoilers document that Sharon Rosales (Sharon Case) looked her husband in the eye and told him that he is her rock. Rey Rosales (Jordi Vilasuso) believed his wife and should because she was telling the truth.
Devoted fans are wondering if this likable couple is in the process of being written into a storyline that focuses on something fresh? More screen time would follow a good deal of Adam Newman (Mark Grossman) related episodes that became a bit tired.
Young And The Restless Spoilers – Shadam Shows No Signs Of Revival
Sharon talks about Adam in a controlled manner these days. That stands in contrast to the period before she and Rey married and a one-time Shadam re-connection took place.
There is no current momentum for a Shadam reunion. Adam previously pledged to stop inserting himself in Sharon's life and has lived by his word.
As for Sharon, she sees Rey as Mr. Stability. At this point in her life and career, with family considerations also being made, Rey is a good fit. But does Shey have depth to survive long-term?
Young And The Restless Spoilers – Adam Newman Has Hands Full
Anyone who sees what is happening at Newman Media, specifically with its emerging fashion platform, knows that Adam now has two ladies who are vying for his attention.
Sally Spectra (Courtney Hope) is all-in for Adam, though she has wisely checked her enthusiasm to avoid pushing him off. As for Grossman's character, he is intrigued by Sally and increasingly attracted to her.
However, Adam continues to follow his father's advice by not pursuing any relationships. That now includes the option of reconciling with Chelsea Lawson (Melissa Claire Egan), who reappeared in Genoa City, Wisconsin.
Young And The Restless Spoilers – Sharon & Rey Need Adventure In 2022
Rey can be too nice of a guy at times. Sharon has not taken advantage of him by betraying their vows. But her involvement with Adam during Chelsea's period of paralysis was over the top.
Vilasuso's character is committed to Sharon, cares for her children as though they were his own and has been exceedingly understanding of her complex backstory. Sharon recognizes Rey's value in her life, which extends beyond their marriage.
If Shey is to survive 2022, then an engaging storyline, that involves a mutual challenge would be welcomed. No more health issues or past loves. Instead, something fresh that provides adventure would signal that Rey and Sharon will survive and even thrive would be great.
This site is a leading source for everything linked to The Young and the Restless. Check back regularly for Y&R spoilers and news!