The Young and the Restless Spoilers: Sally's Badly Outmatched – Chelsea Destroys Enemy?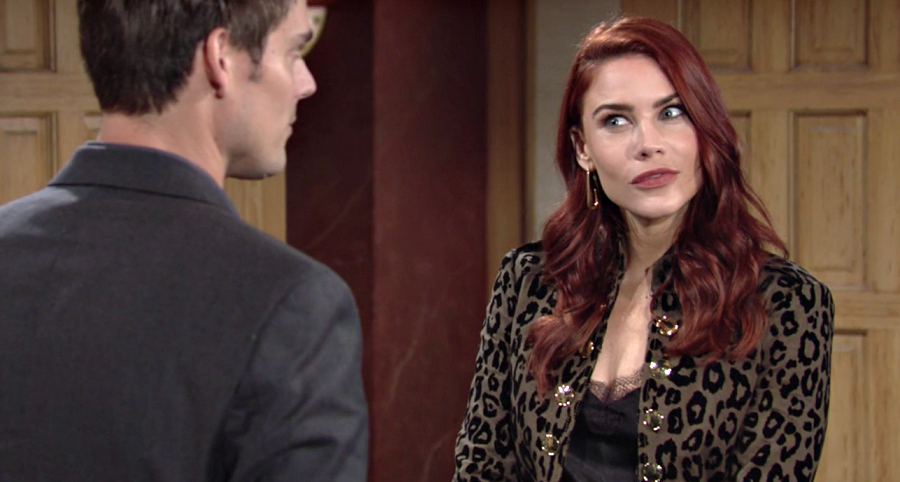 The Young and the Restless spoilers document that Sally Spectra (Courtney Hope) is repeating a mistake she made in the past. Hope's crossover character from The Bold and the Beautiful underestimated Flo Logan (Katrina Bowden) to her eventual chagrin. Now, she thinks Chelsea Lawson (Melissa Claire Egan) can be handled as well.
Add to the above Sally's belief that cloaked snooping for Adam Newman (Mark Grossman) will go swell, and a daytime recipe for disaster is brewing. Yes, swell is the right word to use, as Sally's ego has again increased to the point where she is greatly overestimating her ability to control the future.
Young And The Restless Spoilers – Chelsea Lawson Not Done With Adam Newman
Chelsea holds higher cards where Adam is concerned. She was married to him on two occasions in the 2010s and was his significant other earlier this year.
Adam has children through two women. One is not a threat, as Sage Newman (Kelly Sullivan), the mother of the now rarely seen Christian Newman (Alex Wilson), is deceased. But the other is Chelsea.
Connor Newman (Judah Mackey) is Adam's main focus, outside of business. Chelsea's place as Connor's mother gives her an edge over any other lady in Adam's life, including Sally.
Young And The Restless Spoilers – Billy Abbott Snooping Is Risky
Billy Abbott (Jason Thompson) is in the midst of a high-risk, high-reward gamble. He is attempting to play possum, in an attempt to lower Adam's expectations.
While Billy's endgame has not been defined for the audience, Thompson's character appears to have a well-defined plan in mind. The goal is to diminish Newman Media and Newman Locke in some significant way.
What Sally does not realize is that she is serving as Billy's pawn, in feeding Adam information that is a well-orchestrated ruse. Beyond that, as Adam told Sally, she is risking Billy's wrath.
Young And The Restless Spoilers – Sally Spectra Lacks Lived History
Sally is smart and talented. While very clever, she lacks the lived history the other involved characters have.
So, whatever assessment Sally makes will not include the experience of anticipating and preparing for her target's responses. Fans saw the results of that mistake when Sally attacked Skyle and Phyllis Summers (Michelle Stafford).
A bettor would only place money on Sally if funds were not an issue. Chelsea is a reformed grifter who knows how to play down to Sally's level when need be. The father, Billy, of her other child, Johnny Abbott (Holden and Ryan Hare), does as well.
This site is a leading source for everything linked to The Young and the Restless. Come to Soap Spoiler for all the hottest Y&R spoilers and news!