General Hospital Spoilers: Brando and Sasha's Christmas Miracle, Baby Liam Defies Medical Explanation?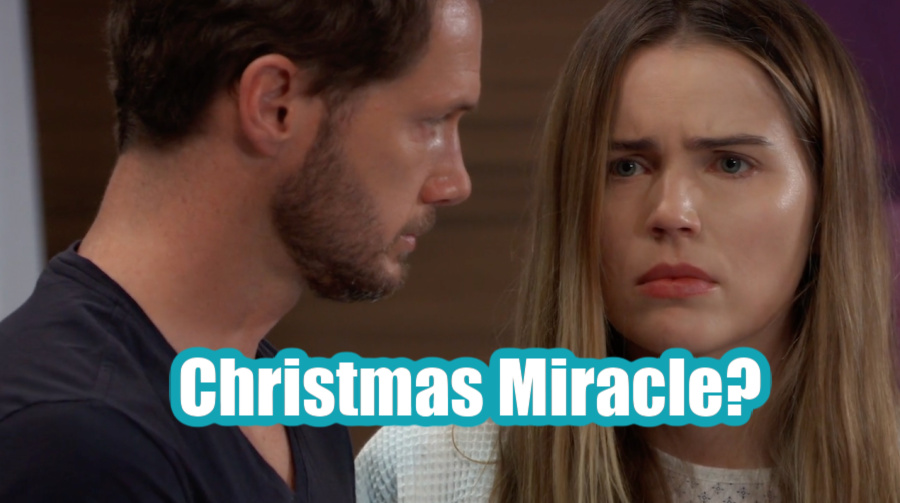 General Hospital (GH) spoilers reveal that Brando Corbin (Johnny Wactor) and Sasha Gilmore (Sofia Mattsson) are told their son has no brain activity. Advised to pull the plug, Sasha refuses to believe it. Could there be a Christmas miracle that defies medical explanation? Could Liam Corbin breathe on his own for the first time after doctors shut off the machines?
Brando Corbin's Prayer
GH spoilers reveal that Brando went into the hospital chapel and prayed with all of his heart. Brando desperately is trying to be strong for Sasha. Brando knows that if he crumbles, then Sasha will break down and baby Liam needs both of them to be strong. However, it seems that they are going to get some bad news from Britt Westbourne (Kelly Thiebaud) and the neurologist.
General Hospital Spoilers: No Brain Activity
Brando and Sasha are told that baby Liam has no brain activity. The baby has never breathed on his own and never will. The parents are told Liam will never open his eyes and will be in a permanent vegetative state. Brando and Sasha have to make some hard decisions, including whether to pull the plug or keep the baby on life support. Britt reminds them both that if they choose to keep the baby on life support, it will mean no quality of life.
The interview in Soap Opera Digest just says that Brando and Sasha are advised to pull the plug. It doesn't actually say that they do it – or if they do, what happens afterward.
Saying Goodbye to Baby Liam Corbin
General Hospital spoilers reveal that Brando understands what the doctors are saying. However, Sasha doesn't believe this as she recalls seeing Liam smiling back at her. The doctors will probably dismiss this as an automatic reflex and not indicative of brain activity. Despite her insistence that Liam has a fighting chance if given the opportunity, Brando tries to reason with her. Brando explains that they need to say goodbye to Liam.
General Hospital Spoilers: Christmas Miracle?
There are a few clues that we could be in for a Christmas miracle and Sasha's maternal instinct might be on target. For one, Liam means "strong-willed warrior." Sasha believes that Liam smiled and it wasn't an automatic reflex. Brando prayed for the first time in a long time and Christmas is all about miracles. Soaps love to capitalize on a feel-good Christmas miracle and baby Liam just might be it. There is also Liam's middle name, "Mike." As fans recall, Mike helped save Sonny Corinthos (Maurice Benard) and perhaps ghost Mike will step in again. What if after pulling the plug, baby Liam defies all odds by breathing on his own for the first time? Doctors might not be able to explain it, but stranger things have happened!
Even though baby deaths happen in soaps, Christmas would be the worst time for that. Fans already complain about too much gloom and doom in Port Charles. Hopefully, GH has a plan to air a Christmas miracle that will be talked about for years to come.
Be sure to catch up on everything happening with GH right now. Come back often for General Hospital spoilers, news and updates.