General Hospital Spoilers: Elizabeth Comes Clean: "I Never Cheated on You, Finn"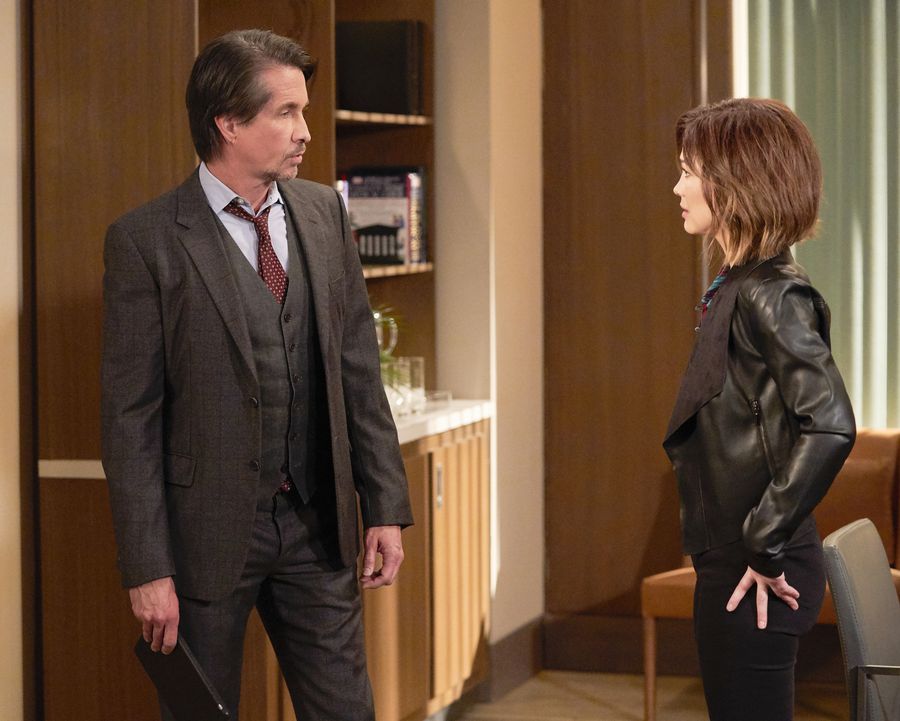 General Hospital Spoilers reveal Elizabeth Baldwin (Rebecca Herbst) can't take the distance between herself and Hamilton Finn (Michael Easton) anymore. Even if she and Finn are never more than friends again, she wants to be at least that — for the sake of their families and themselves.
Finn and Elizabeth recently chatted with Violet Finn (Jophielle Love) about the state of their relationship, and it got them feeling familiar and comfortable with one another again. When they meet again and Elizabeth shares that she never actually cheated on Finn, he's going to be quite perplexed. When he asks her to repeat herself, she might stumble over her words and wonder if she should backpedal — but will she?
General Hospital Spoilers — Liz is Risking Everything
Elizabeth knows she is risking everything by confiding in Finn. She and Nikolas Cassadine (Marcus Coloma) were supposed to keep their criminal secrets just that — a secret. But Elizabeth needs to unburden herself, and Nikolas is so consumed by his own melodrama surrounding Esme Prince (Avery Kristen Pohl) and her pregnancy that he doesn't have the time to devote to reassuring Elizabeth he's going to stand by her on this.
Finn is just the kind of friend she needs in her corner right now. Moreover, she wants him to know she never betrayed him — at least not in the way he thinks she did. She never cheated. She never miscarried. There wasn't even a baby. It won't take long for Finn to connect those dots.
GH Spoilers Hint She Knows She Can Trust Finn
It's easy for Elizabeth to bare all with Finn because she knows she can trust him. That being said, he won't understand why she didn't display this trust before. Perhaps she didn't because it felt more like she was betraying Nikolas' trust then if she ratted him out to Finn. However, she feels less inclined to support Nikolas now that he isn't really supporting her — or himself — very well.
When she tells Finn the truth, she will immediately feel reassured that he wouldn't tell a soul what she has shared with him. Let's just hope that courtesy still applies even when he's alone and unburdening himself with Alexis Davis (Nancy Lee Grahn) — who is conveniently Nikolas' aunt.
General Hospital Spoilers — This Could Be the Start of Their Reboot
It'll send Finn's mind reeling to know that Elizabeth really didn't cheat on him. Yes, they were going through their own struggles and Elizabeth was having a hard time reconciling the role she felt she had played in Reiko Finn's (Mele Ihara) death, but their relationship wasn't beyond repair.
Now that it's over, is it too late to salvage what may be left now that Finn knows the truth, or has Elizabeth only wreaked more havoc by telling so many lies? Stay tuned for more GH news and spoilers to find out.