General Hospital Spoilers: Sonny Realizes Carly Lied to Him About Dex – and He Jumps to the Wrong Conclusion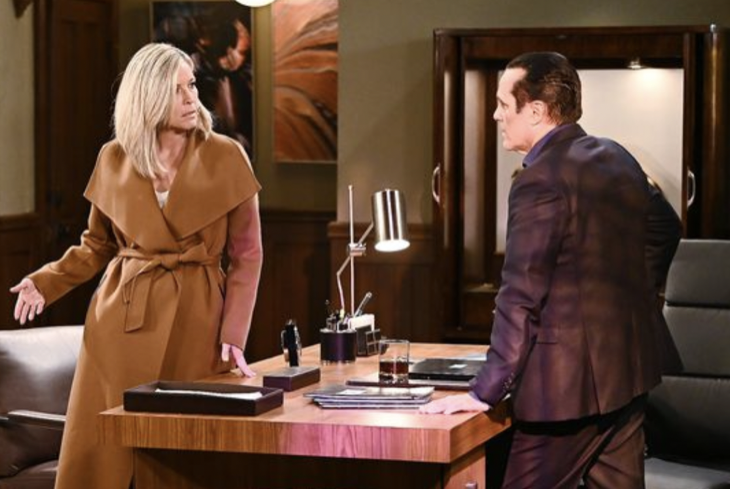 General Hospital spoilers tease Sonny Corinthos (Maurice Benard) doesn't always tell the truth, but he expects loyalty and honesty from everyone else in his life. Whoever gets caught lying to Sonny might not always live to regret it. Of course, Sonny isn't going to off his ex-wife and the mother of his children. However, he might not have any problem with taking Dex Heller (Evan Hofer) out if he thinks he's a risk to his business — or his love life. When Sonny hears that Dex and Carly know one another and that the favor she asked from Brick was for Dex, he just might turn green with envy before he's red with anger.
General Hospital Spoilers — Carly Did Dex a Favor
Sonny will believe that Brick had no idea Dex was the person Carly was helping. Still, he will want to know where Dex spent the few days that Sonny couldn't track him down, and he suspects only two people can answer that question for him. In Sonny's opinion, regardless of whether Carly's interest in Dex is romantic or not, if she's plotting against Sonny, it'll be in his best interest to get to the bottom of it. Why else would she help Dex, and how would she even know him?
GH Spoilers Say Carly Covers for Joss
Sonny hasn't had any luck getting answers out of Dex, and he really isn't in the mood to torture the guy again over this. So he will start with a much easier approach and ask Carly what's going on. When she dodges Sonny's questions and tries to avoid mentioning Josslyn 'Joss' Jacks' (Eden McCoy) out of an effort to protect Joss and her relationship with Cameron 'Cam' Webber (William Lipton), Sonny will only grow more suspicious and angry.
General Hospital Spoilers — Sonny Thinks There's More to It
Sonny ruminates on his feelings, and often for a long time. Dex can expect him to continue to bring up his absence for several days. It won't make much sense to Sonny that Carly would be romantically involved with Dex because she just told him she's dating Drew Cain (Cameron Mathison), and Drew as much as confirmed it. So the only plausible explanation Sonny can come up with on his own is that Dex might be spying on Sonny for Carly. Is this Sonny's ego talking and wishing that Carly cared more about him than she does as she prepares to ride off into the sunset with Drew Cain (Cameron Mathison)? Stay tuned for more General Hospital news and spoilers to find out.