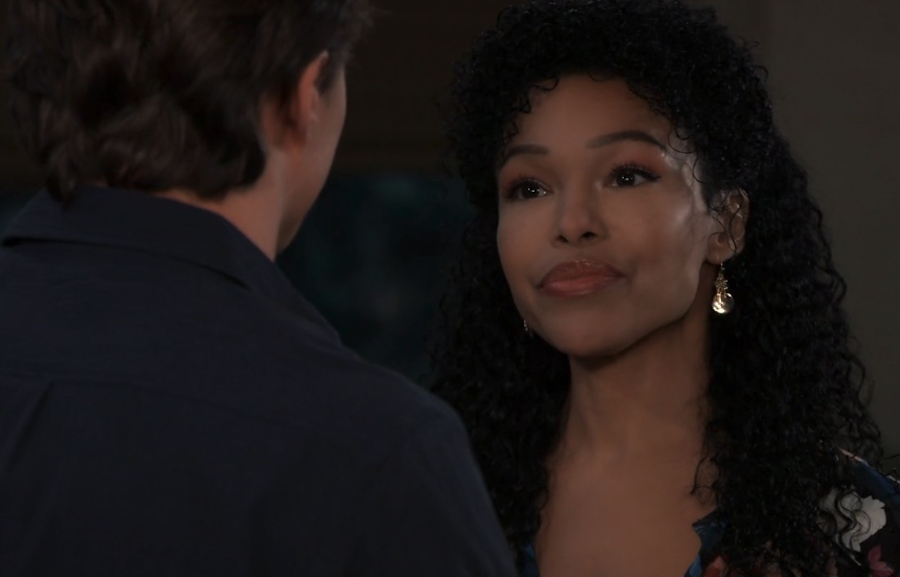 General Hospital spoilers say that there are some boundaries needed in this mother and daughter relationship. There are a lot of people that believe Portia might be just a little too obsessed with Trina's life, including her relationship with Spencer. Here's what you need to know.
General Hospital Spoilers: Portia Is Too Obsessed With Trina's Life
During the latest episode of General Hospital, Portia wanted to make sure that Spencer heard exactly what she had to say, and that Trina needed her mother and not just another Cassadine in her life. Either Portia is doing her best to protect her daughter from all of those toxic vibes or she simply doesn't think Spencer is good enough for her.
It goes without saying that a lot of General Hospital fans have had plenty to say about this storyline on social media. Some have even commented on Twitter with, "I think Portia is way out of line when it comes to Spencer seeing Trina. Trina is a grown woman now. I hate this storyline. Not Portia's role to dictate who her daughter dates or wants in her life," along with, "Portias not only going to lose Curtis but Trina too. Spencer should have stayed. Portias acting like a martyr. Trina needs the man she loves just as much as her family. I need Portia to MOVE and I need y'all to allow Trina to be loved ONSCREEN by her boyfriend. Enough!"
General Hospital Spoilers: What's Next For Sprina?
Another critic wrote, "Portia has a weird obsession with her daughter. I don't believe she's worried about her getting hurt either. She doesn't mind her hanging around the roommate and Dexter. She also doesn't mind scheming alongside your drugging, framing predator."
And then there was this comment as well, "So Trina needs a lying, manipulative mother and not the Cassadine that makes her happy? Interesting."
With that said, General Hospital fans will have to tune in to find out what will happen next! Watch this space as we have a feeling there is so much more to come. Meanwhile, let us know what you think by leaving us a line with your thoughts in our comments section below. General Hospital airs weekdays on the ABC network. Check your local listings for times.
Be sure to catch up with everything on GH right now. Come back here often for General Hospital spoilers, news and updates.