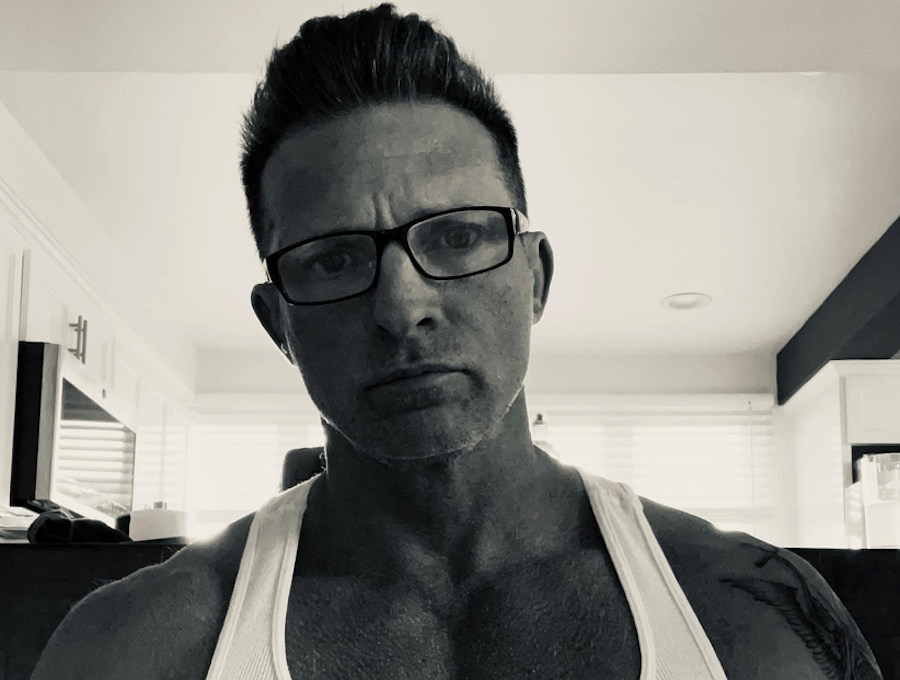 General Hospital news says that for this actor, it looks like life after Port Charles isn't treating him so bad after all. As a matter of fact, a lot of fans couldn't help but notice that Steve Burton, who was once best known for his role as Jason Morgan on the show, is looking quite different these days, and that's not a bad thing at all. Here's what you need to know.
General Hospital News: Steve Burton (ex-Jason Morgan) Looks So Different!
Steve recently shared a black and white photo of himself looking directly into the camera. He's got his glasses on and is wearing a white muscle t-shirt that yes, is showing off his strong arms (the man has been spending a whole lot of time in the gym lately).
Steve had a strong message for his fans. He captioned his photo with, "YOU have so much value, everyone one of us has value..but the self doubt stops people…lack of self belief, so they don't follow their dreams or they give up or worse..they settle because they haven't had much success so they are stuck in that cycle with their NEGATIVE self talk, no success ..more negative self talk, no success and then this become the pattern…the dreaded norm, the comfort zone.. how can we be so comfortable in a negative environment? It becomes a habit. We make our habits then our habits make us."
He then added, "They say show me your habits I'll show you your future…here's the question..are your daily habits building you? Let's build the best versions of ourselves now. 1 Life. Don't Settle."
General Hospital News: What's Next For Steve?
Of course, it didn't take long at all for both his fans and his followers to comment on his pic. Many of them wrote, "So well said!!! Why is it that it's so much easier to believe the negative & let it tear us down?" along with, "The glasses, the arm tattoo… the black/white – just when I thought u couldn't possibly get more attractive!"
Another fan wrote, "Steve that's the truth! You sound like a motivational speaker, that should go on a speaking tour! I think you'd be great at it!"
That said, could a motivation tour be in the works? Maybe. Meanwhile, let us know what you think by leaving us a line with your thoughts in our comments section below. General Hospital airs weekdays on the ABC network. Check your local listings for times.
Be sure to catch up with everything on GH right now. Come back here often for General Hospital spoilers, news and updates.