The Young and the Restless Spoilers: Jack and Allie Trapped, Keemo's Deadly Debt Collector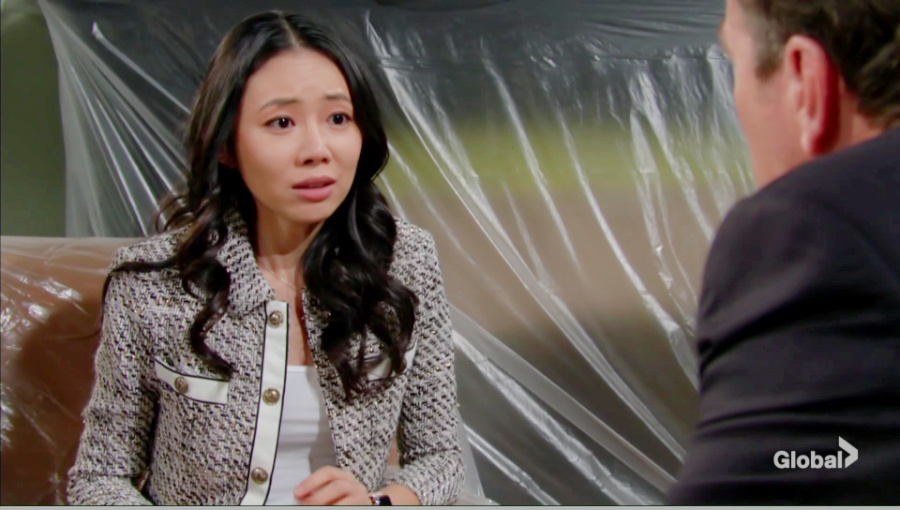 The Young and the Restless spoilers reveal that Jack Abbott (Peter Bergman) goes back to L.A. to see Allie Nguyen (Kelsey Wang). However, Jack goes alone and that could be a mistake. Meanwhile, someone is stalking Allie and watches her sleep. Could Keemo Abbott (formerly Philip Moon) have died owing money to some dangerous people?
Allie Nguyen's Stalker
Y&R spoilers reveal that Monday's episode will show Allie returning to Keemo's house. Allie peeks in the doorway to make sure Jack and Phyllis Summers (Michelle Stafford) have already left. Allie talks to herself about how much she misses Keemo. Then, she admits being confused about whether she should trust Jack or not. Allie seems genuinely shocked that her father lied about Jack.
Then, she falls asleep on the couch. However, Allie isn't alone. There is someone else in the house who seems to be watching her sleep. The sound effects and looming dark shadow give the indication it's a foe and not a friend.
The Young and The Restless Spoilers: Another Message
While Allie is being stalked by a stranger, Jack gets another text message. The sender tells Jack that Allie just needs a little more time. In the weekly preview, the identity of the sender isn't shown. All that is revealed is that a woman sends a message to Jack. Her face isn't shown but she is wearing a business-type black skirt and jacket. The hands look too old to be Allie's. So, could this person be Allie's mother?
Ashley Abbott's Warning
The Young and the Restless spoilers reveal that most people tell Jack he should go back to L.A. to connect with Allie. However, there is one person in Genoa City who thinks this is a bad idea. Ashley Abbott (Eileen Davidson) thinks Allie appearing out of nowhere is a tad disturbing.
Ashley might be right about having a bad feeling. However, Allie might not be the threat. In fact, Allie and Jack could both be in danger.
The Young and the Restless Spoilers: Deadly Debt Collector?
It is teased that a dangerous trap is set for Jack. Allie seems awfully distrustful and there might be a reason for that. Allie also seems on edge and fearful. Plus, why is she sleeping in Keemo's vacant house instead of her own place?
Could Keemo have gotten involved with some bad people? Maybe he owed money to the mob or loan sharks? It's possible that Keemo's death might have not really been a heart attack. A lot of emphasis has been put on how Keemo was so young to die from a heart attack. Perhaps it just appeared to be a heart attack.
If so, maybe this deadly debt collector found out about Jack's relation to Keemo. If Jack falls into a dangerous trap, will he be able to save both himself and Allie?
Be sure to catch up on everything happening with Y&R right now. Come back often for The Young and the Restless spoilers, news, and updates