Days of Our Lives Spoilers: Is TR a Bluebeard? Abe and Eli Combat New Threat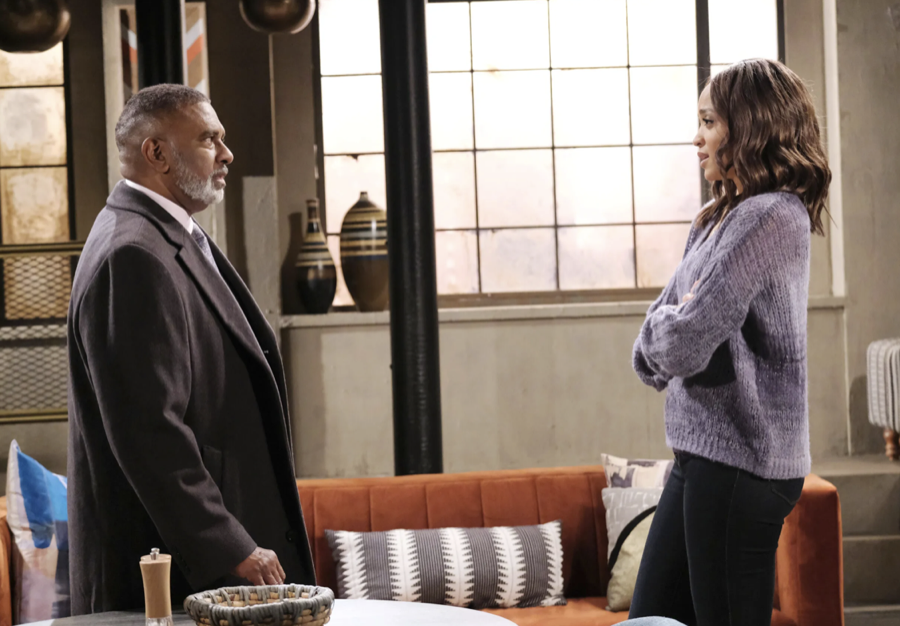 Days of Our Lives spoilers reveal that TR Coates (William Christian) will try to romance Paulina Price (Jackée Harry). During the week of February 21, TR won't give up and will try to woo his ex. At the same time, Eli Grant (Lamon Archey) gets a warning about TR. So, what is TR's motivation? Could he be a Bluebeard and is Paulina his next victim?
Conning Lani Price-Grant
DOOL spoilers reveal that Lani has discovered the truth about TR. The movie producer went to Lani's apartment and told her that he was her biological father, Ray. Lani wasn't thrilled about him contacting her. Even though Lani lashed out at TR, he insists that he's changed.
In the coming weeks, TR will try to prove that he's changed. In fact, it is confirmed that Lani will be tempted to give her father a chance. However, has TR really changed his abusive ways or is he manipulating Lani?
DOOL Spoilers: Romancing Paulina Price
In a promo clip, TR will try to worm his way back into Paulina's life and bed. TR stops by Paulina's place and brings her flowers. Paulina isn't impressed as she never invited TR to come over.
Paulina also realizes that he's probably just trying to manipulate her like he used to decades ago. Paulina shatters the vase all over the floor but that won't be the end of TR's wooing. It seems that Paulina will start to fall for TR's tricks and could give him another chance.
Eli Grant Gets a Warning
Days of Our Lives spoilers reveal that the promo also shows a woman visiting Eli at the police station. The woman identifies herself as TR's ex-girlfriend and she means business. With a serious and no-nonsense look on her face, she has something to say to Eli. It's possible that TR has ulterior motives, which could mean Paulina is in danger.
Days of Our Lives Spoilers: Is TR Coates a Bluebeard?
What would be the point of TR romancing Paulina after all these years, especially considering their past? Well, Paulina is extremely wealthy and is single. TR's ears perked up when he learned that Paulina is a widow. TR claims that he reinvented himself as a movie producer. However, that doesn't mean he has any money of his own.
TR could be worse than a con man, though. Is it possible that TR's intention is to marry Paulina and then kill her in order to get her money? The male version of a black widow is called a "Bluebeard." If Paulina falls into TR's trap, will it be up to Eli and Abe Carver (James Reynolds) to save the day?
Be sure to catch up on everything happening with DOOL right now. Come back often for Days of Our Lives spoilers, news, and updates.