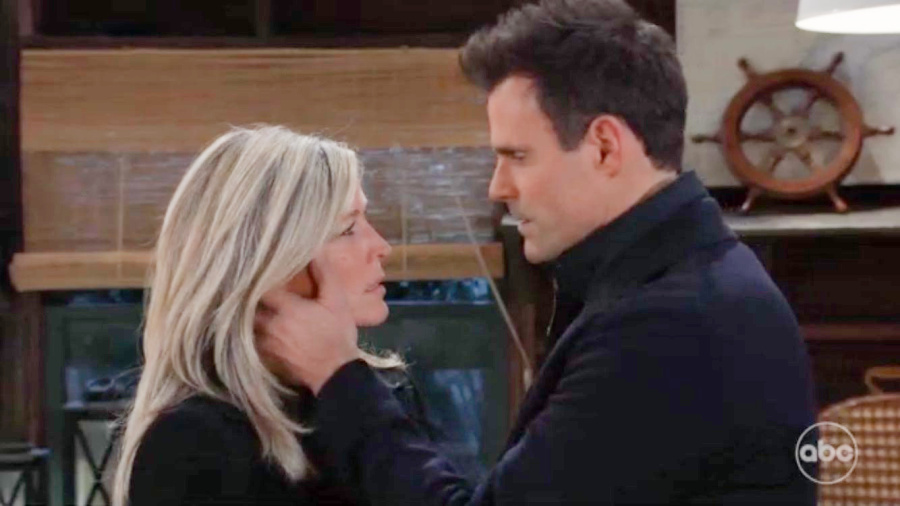 General Hospital spoilers and rumors tease that Drew Cain (Cameron Mathison) will become Carly Corinthos' (Laura Wright) new voice of reason in upcoming episodes of General Hospital!
General Hospital Spoilers – Carly Corinthos Needs A Stabilizing Force Who Can Calm Her Down
General Hospital viewers know that for many years, Jason Morgan (Steve Burton) was a stabilizing force in Carly's life, someone who "got her" and knew how to calm her down. Now that Jason is gone – REALLY GONE – at least as far as we know – Carly feels like she's lost her rock, her moorings, and when you get right down to it, the love of her life! In recent General Hospital episodes, Drew has reached out to Carly to be a friend – and not only have they both lost Jason, they've both lost new chances with ones they love.
Drew had talked Carly into meeting Sonny Corinthos (Maurice Benard) halfway and going to The Haunted Star, where Sonny had planned a grand gesture to win her back. But then both Carly and Drew came back disappointed – Carly, by Sonny's adultery with Nina Reeves (Cynthia Watros) and Drew by Sam McCall (Kelly Monaco) choosing Dante Falconeri (Dominic Zamprogna) over him.
GH Spoilers – Drew Cain And Carly Corinthos Appear To Have Bonded
General Hospital viewers can see that slowly but surely, Drew and Carly appear to have bonded as friends in recent episodes of General Hospital. The night that Carly found Sonny in bed with Nina and came to the boathouse on the Quartermaine property, she was looking for her son Michael Corinthos (Chad Duell) but found Drew instead. He had come to think after an intense talk with Sam at GH, where she made clear that she had moved on with Dante, and Carly and Drew had a heart to heart talk; Carly invited him to talk. Carly could have gone to her old Carly ways and Drew could have been easily convinced to have grief sex but she stopped herself, and he was proud of her-it didn't even go to a kiss. Both Carly and Drew showed themselves to be well on the way to being true friends by their behavior.
General Hospital Spoilers – Drew Cain Is Carly Corinthos' New Jason Morgan, But Not Her New Lover
General Hospital viewers can see Drew being Carly's new "Jason" but certainly not her new lover, and Drew wouldn't try to replace his twin-nor would he ever try to. Sonny may not agree that Drew can ever take Jason's place, and he would be right – and Drew doesn't have to be a "fake Jason" as Sonny so cruelly accused him of in a recent General Hospital episode.
Even after being presumed dead for over two years himself he could tell Sonny wasn't himself that day at The Savoy, even though he may not know Sonny is bipolar and was off his meds. Drew needs a friend and Carly needs a friend, and it is plain a new friendship has been formed between the two; Carly is finding that Drew has a way of calming her like Jason did, but in his own individual way.
Be sure to catch up on everything happening with GH right now. Come back here often for General Hospital spoilers, news, and updates.