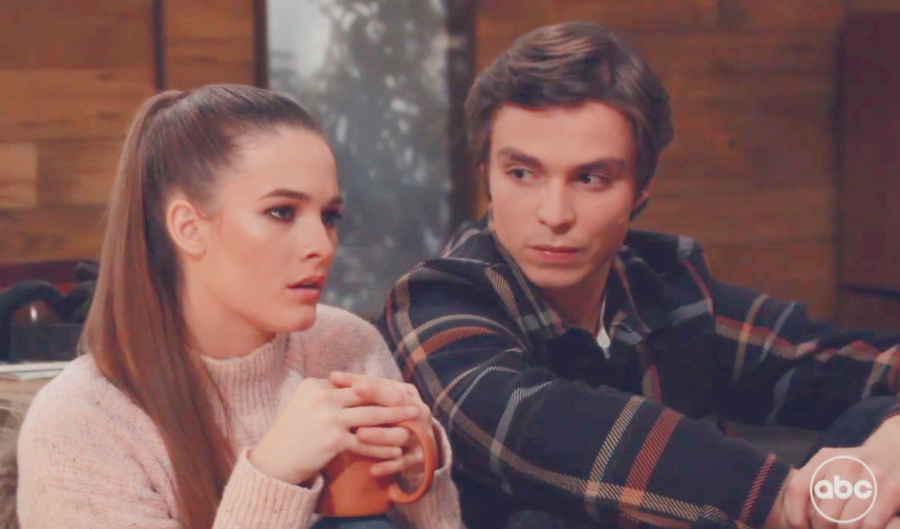 General Hospital (GH) spoilers reveal Spencer Cassadine (Nicholas Chavez) finally coming to the realization that he is in way over his head with his crazy girlfriend.
General Hospital Spoilers: Will Spencer Dump Esme?
Spencer (Nicholas Chavez) already knew that Esme Prince (Avery Pohl) was a devious girl as he had enlisted her in his plot to stalk Ava Jerome (Maura West) and get her away from his father. He was a little alarmed when she set Ava's car on fire, but covered for her so she wouldn't go to jail and tried to brush that little incident off as a little bit of nothing.
But he could see just how cunning she was at the cabin as she got Trina Robinson (Sydney Mikayla) to admit she once had feelings for Cameron Webber (Will Lipton) and that she feels like the odd one out now that Joss (Eden McCoy) and Cam are dating. Esme caused a wedge between two friends when she pointed out (the truth) that Joss only started dating Cam because she found out that Trina had feelings for him.
Now, Spencer is not sure what Esme is really up to. Once they are back in Port Charles, he starts looking at her differently and is not sure he can trust this girl at all. Except now he has to go and live in Hotel Jail for a month where Ryan Chamberlain (Jon Lindstrom) also lives — and where Esme works. Things are about to get more complicated than ever.
But What About Trina?
It's no secret that Spencer really wants Trina and has just been telling himself that he wants Esme. After all, she is pretty and worldly and has no trouble going to bed with him. However, Trina seems like she really gets him and understands him and that's what Spencer truly needs and wants. He also hates the way that Esme hurt Trina at the cabin and wonders what else she did.
Will Spencer come to a conclusion about what he wants out of life in jail or will Esme continue to manipulate him there, leaving him more confused than ever? Perhaps something dangerous will even happen at that luxury prison where a serial killer lives… Stay tuned to General Hospital weekdays to see how this story plays out.