The Young and the Restless Spoilers: Preview Week of December 20 – Holiday Joy, Romance and Family Surprises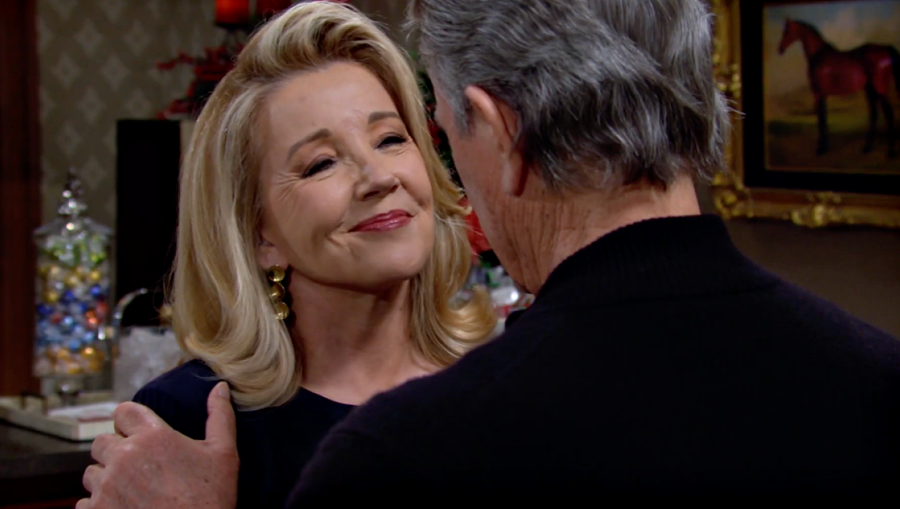 The Young and the Restless spoilers reveal the preview for the week of December 20 is full of happy moments. The focus is on the holidays and that means plenty of family moments and surprises. Victor Newman (Eric Braeden) speaks of his appreciation to Nikki Newman (Melody Thomas Scott). Nick Newman (Joshua Morrow) finds a reason to laugh and much more.
Smiles and Laughter
Y&R spoilers reveal that the preview shows Jack Abbott (Peter Bergman) wishing someone a merry Christmas. Jack has a smile on his face and seems much happier than he's been the past few months. Jack has faced a lot of loneliness and confusion over his heart lately, so it's good to see him happy again.
Elsewhere, Nick is dressed in a Santa suit and finds a reason to belt out laughing. It seems like a genuine laugh, which is also good to see.
Right now, fans are watching as Nick seems lost and discouraged about everything in his life. So, maybe his Christmas journey will give him some much-needed guidance and hope for the future.
Y&R Spoilers: It's About Family
The holidays are all about family, which is featured throughout the weekly preview. Victor tells Nikki how much he appreciates her and everything she does for the family.
Chelsea Lawson (Melissa Claire Egan) shares a happy embrace with her son, Connor Newman (Judah Mackey). It is teased that Chelsea will also get to spend the holidays with Adam Newman (Mark Grossman) as they agree to a truce.
Also, Sharon Rosales (Sharon Case) will hug Faith Newman (Reylynn Caster) while Nick embraces Noah Newman (Rory Gibson).
Joy and Celebration
The Young and the Restless spoilers reveal that Victor and Adam will share a toast. Is this just a toast for the holidays or could they be celebrating something else?
It doesn't seem as if Billy Abbott (Jason Thompson) is feeling down. In the preview clip, Billy and Lily Winters (Christel Khalil) playfully tease each other and share a romantic smooch.
The Young and the Restless Spoilers: Gratitude
In the preview clip, Devon Hamilton (Bryton James) and Amanda Sinclair (Mishael Morgan) look happier than ever. Both characters share a romantic kiss.
Devon and Amanda both are grateful for different things in their lives. Meanwhile, Abby Newman-Abbott-Chancellor (Melissa Ordway) tells Chance Chancellor (Conner Floyd) how much they have to be thankful for.
Even though the weekly preview is full of happy moments, it wouldn't be a soap without some drama. So, expect a little bit of that during the week of December 20.
Be sure to catch up on everything happening with Y&R right now. Come back often for The Young and the Restless spoilers, news, and updates.