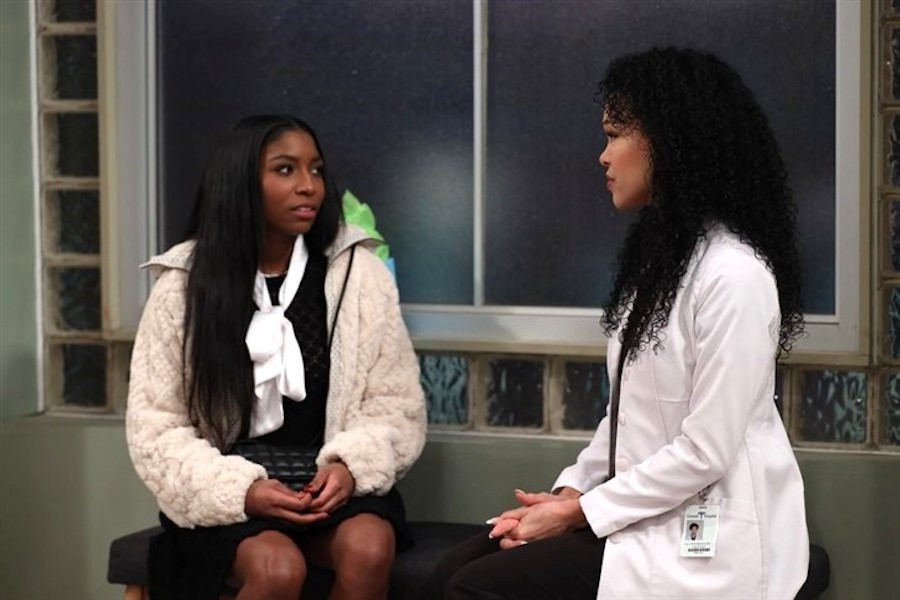 General Hospital spoilers say that it's only going to be a matter of time before Trina flips out on Portia. That's because she's been showing some major disrespect towards Spencer and Trina's relationship with him. Here's what you need to know.
General Hospital Spoilers: Trina Is About To Flip On Portia
Speaking to Soap Opera Digest in a new interview, actress Tabyana Ali, who plays Trina on the hit ABC soap said that at the moment, Trina is simply not picking up on the fact that her mother is being very shady about Spencer. She put it this way, "Maybe a little bit, but I don't think she knows the degree. If Trina did know, I'm pretty sure she would flip out. I know she would be way more upset and I don't want to say argumentative, but I think she would be like, 'Stay out of my business.'"
Tabyana added, "She would definitely be a little feistier with Portia because she's had to stand up to her before about Spencer. So in the case of her mom telling Spencer that he needs to go, or he needs to leave Trina alone, if Trina found out about that, there is no way that she would just sit there calmly! She would definitely get up and wreak some havoc."
General Hospital Spoilers: What's Next For Trina And Curtis?
Now, as far as Trina's relationship with Curtis is concerned, Tabyana said, "It definitely evolved — in some ways, quick, but in other ways, it's like, 'It's about time.' With him being shot, I feel like she was like, 'Okay, you are my dad and I'm going to call you Dad and I'm going to make sure you're okay.' Seeing him hurt like that, she's realizing how important he is to her, more important to her than she thought. I think if this didn't happen, it probably would have taken another 34 years before she even thought about calling him Dad!"
It goes without saying that General Hospital fans will have to tune in each and every day to find out what will happen next! In the meantime, let us know what you think by leaving us a line with your thoughts in our comments section below. General Hospital airs weekdays on the ABC network. Check your local listings for times.
Be sure to catch up with everything on GH right now. Come back here often for General Hospital spoilers, news and updates.