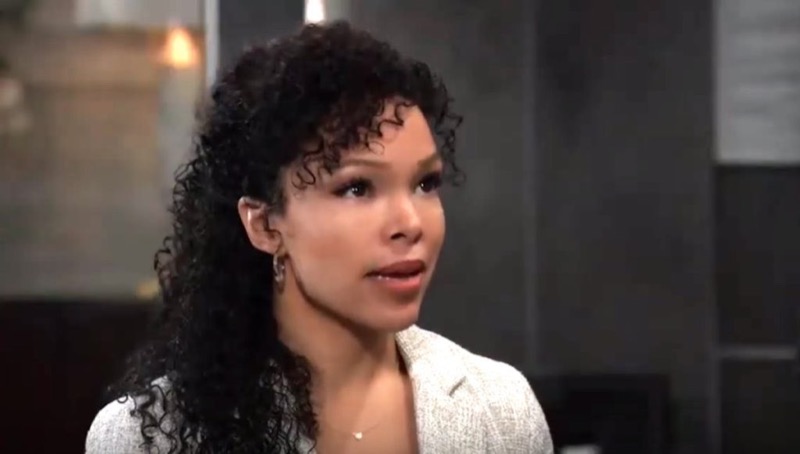 General Hospital (GH) spoilers tease that although Marshall Ashford (Robert Gossett) finally revealed himself to Curtis Ashford (Donnell Turner) as his father, doesn't mean that the rest of the people close to Curtis will just take Marshall at his word. Marshall basically stalked Curtis for weeks, asking friends and family for as much information as they could give him about Curtis. One of those people were Dr. Portia Robinson (Brooke Kerr). And she may have serious doubts about Marshall.
General Hospital Spoilers – Dr. Portia Robinson will warn Curtis Ashford not to trust Marshall Ashford!
Although Curtis and Marshall have gotten off to a rocky start, look for Curtis to soften in the coming days. The two of them have much to work out beginning with why Marshall has been absent from Curtis' life since Curtis was a toddler. Marshall will surely come up with some compelling reason for his continued absence. And while Curtis may eventually believe Marshall, and slowly let him into his life, doesn't mean that Portia won't be concerned. She may even warn Curtis away from getting to know his dad.
GH Spoilers – There is something shady about Marshall Ashford!
Portia will likely point out the creepy way Marshall got information about Curtis. Not only did he seek Portia out and ask her about Curtis, but he also sought out Curtis' nephew, TJ Ashford (Tajh Bellow) and pretended to be a patient at General Hospital in order to ask about Curtis. Portia will point out that Marshall had every opportunity to be upfront about his identity, but he chose to be underhanded in his tactics.
General Hospital Spoilers – Will Marshall Ashford come between Curtis Ashford and Dr. Portia Robinson?
Portia will only be looking out for Curtis' best interest. She may even point out that there is no proof that Marshall is who he says he is. Curtis will agree in his head, but his heart may be a different matter. Curtis may want to get to know his "father" despite himself. This could even come between the couple who is just starting to get its footing. Could Marshall break up Curtis and Portia before they can get serious about each other?
What do you think?
Is Marshall really Curtis' father? Will Curtis turn Marshall away? And will Marshall come between Portia and Curtis? Anything can happen in Port Charles so stay tuned to General Hospital airing weekdays on ABC. And don't forget to check back right here regularly for all your General Hospital news, information and spoilers!