The Bold and the Beautiful's Katherine Kelly Lang Has A Message For Matthew Atkinson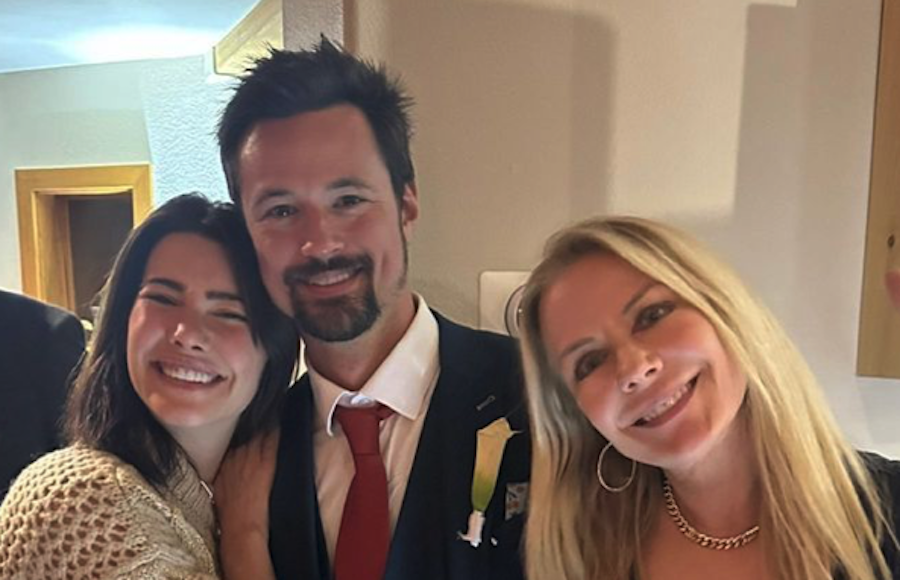 The Bold and the Beautiful star Katherine Kelly Lang has a new message for her co-star Matthew Atkinson, as he is about to start a new chapter in his life.
Even though their characters Brooke Logan and Thomas Forrester do not get along at all in front of the cameras, luckily these two are the best of friends off-screen. Keep reading below for everything you need to know.
The Bold and the Beautiful's Katherine Kelly Lang Has A Message For Matthew Atkinson
As many B&B fans are probably aware of by now, Matthew Aktinson married the love of his life,the newly minted Brytnee Atkinson in a fairytale wedding that you only get to see in a picture-perfect town like Lake Tahoe, California.
The entire The Bold and the Beautiful gang was there for Matthew and Brytnee's special day, including of course Katherine, Jacqueline MacInens Wood, Kimberlin Brown, Ashley Abura and so many more.
Katherine shared a few highlights from the wedding and a special message for the bridge and groom. She wrote on her Instagram post, "Congratulations to the newlyweds @brytneeratledge and @jmattatkinson. We were so happy to be in beautiful Lake Tahoe to be a witness to your special union. Wishing you all the best in life! You two are so amazing and such a wonderful couple! Love you lots!!"
The Bold and the Beautiful's Matthew Atkinson Is Now Married!
The new bride Brytnee responded with, "LOVE THIS. Thank you for being a part of our special day, we love you!"
Katherine also shared a few photos and videos of the wedding party getting down to business on the dance floor and having the time of their lives.
Talk about a great way to celebrate love! It's also wonderful to see that Matthew is so close with his The Bold and the Beautiful family, too. Congratulations to the happy couple!
Fans will have to tune in each and every day to find out what will happen next. The Bold and the Beautiful fans, what do you think of this story?
Watch this space as we have a feeling there is so much more to come. Go ahead and let us know what you think by adding some buzz in our comments section.
Also, don't forget that The Bold and the Beautiful airs weekdays on CBS. You'll need to check your local listings for times.