Days of Our Lives Spoilers Week Of February 6: Orpheus Tempt Lucas, Chad And Stephanie's Announcement, Allie's Realization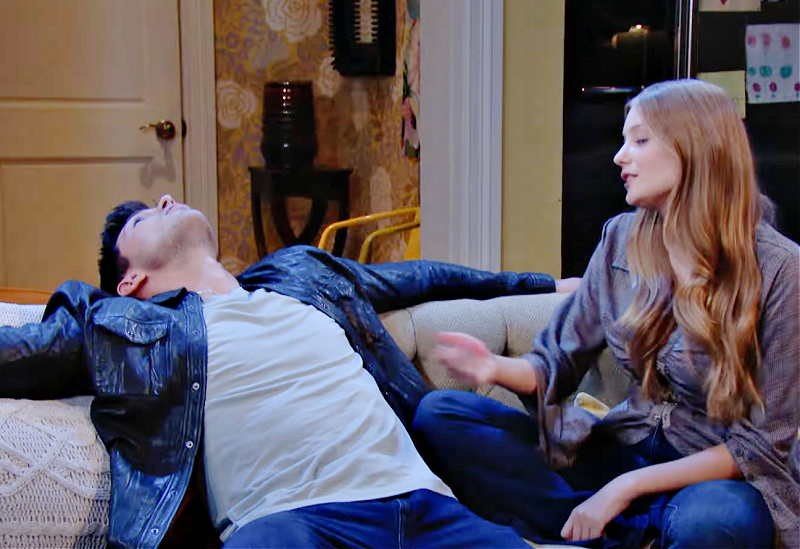 Days of Our Lives Weekly spoilers for February 6-10 suggest that Marlena Evans (Deidre Hall), Kate Brady (Lauren Koslow), and Kayla Johnson (Mary Beth Evans) are stunned to learn that they've been fooled. Have these three ladies just signed their souls over to the devil? Marlena, Kate, and Kayla may have a wild ride before they can even consider getting back home to their families.
Meanwhile, Roman Brady (Josh Taylor), John Black (Drake Hogestyn), and Steve Johnson (Stephen Nichols) plot their revenge on Orpheus (George Del Hoyo). Orpheus has a plan of his own while he tempts Lucas to drink. Alex Kiriakis (Robert Scott Wilson) is disappointed by Stephanie Johnson's (Abigail Klein) decision to move on.
Gabi Hernandez Needs Dr. Rolf's Help
Days Of Our Lives spoilers reveal Gabi Hernandez fights for Dr. Rolf (Richard Wharton) to be released from police custody. Gabi needs Rolf to finish what he started with Stefan Dimera (Brandon Barash). Stefan realizes his plot against EJ Dimera (Dan Feuerriegel) went awry. Brady Black (Eric Martsolf) and Eric Brady (Greg Vaughan) bond over their grief and romantic troubles. Eric helps Nicole Walker's aid.
DOOL Spoilers: Chad Dimera And Stephanie Johnson's Announcement
Chad Dimera (Billy Flynn) and Stephanie will tell his kids they have decided to date. How will Chad's kids react? Wendy Shin (Victoria Grace) gets called away and Johnny Dimera (Carson Boatman) turns to Chanel Dupree (Raven Bowens) for comfort. Joey Johnson (Tanner Stine) plays cupid for Tripp Johnson (Lucas Adams) and Wendy. Allie Horton (Lindsay Arnold) and Alex console each other over their romantic woes.
Days of Our Lives Spoilers: Chanel Dupree and Johnny Dimera's Shocking Discovery
Chanel and Johnny catch drunken Allie and Alex in a compromising position. Tripp tells Wendy that Joey tricked her into coming over. Sarah Horton (Linsey Godfrey) has a surprising encounter with Rex Brady (Kyle Lowder). Gwen Rizczech (Emily O'Brien) and Xander Kiriakis (Paul Telfer) put the screws to Jack Deveraux (Matthew Ashford). Sarah gives Xander a taste of his own medicine when she kisses Rex.
Jennifer Horton (Cady McClain) arrives in Salem to surprise Jack for Valentine's Day. Will Jennifer disagree with how Jack is handling Gwen? Has Gwen changed her mind and turned Jennifer in as the hit-and-run driver outside the police station months ago that ran her down? Allie realizes she made a huge mistake. Paulina Price (Jackee Harry) encourages Chanel to work things out with Allie. Can Allie and Chanel's relationship be saved after her last encounter with Alex?
Be sure to catch up on everything happening with DOOL right now. Come back here often for Days Of Our Lives spoilers, news, and updates.