Days of Our Lives Spoilers UPDATE Friday, January 27: Roman Not Impressed, Gabi Plays Li, Allie Loses It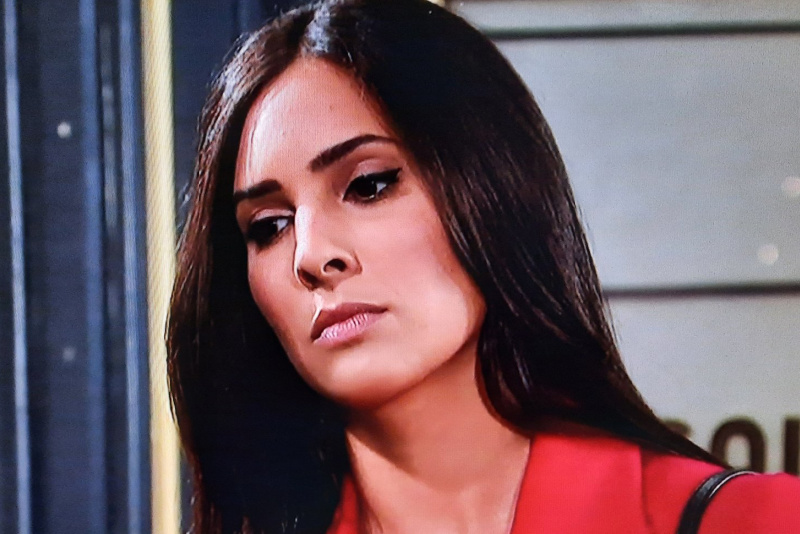 Days of Our Lives spoilers for Friday, January 27, indicate that Roman Brady (Josh Taylor) will be unimpressed by Sloan Petersen (Jessica Serfaty). Gabi Hernandez (Camila Banus) plays Li Shin (Remington Hoffman). Allie Horton (Lindsay Arnold) will lose it on Chanel Dupree (Raven Bowens) and Johnny Dimera (Carson Boatman), and more.
Gabi Hernandez Plays Li Shin
Days Of Our Lives spoilers reveal Gabi manipulates Li to get what she wants. Gabi needs to have Dr. Rolf (Richard Wharton) in Salem as soon as possible.  Gabi has already knocked out Stefan Dimera (Brandon Barash) and tied him up. Stefan can't be missing for long without someone growing suspicious. Gabi needs Stefan's memories returned now.
Gabi will make nice to Li and act like she wants to reunite just to get Stefan back. Li owes her that much since he is responsible for Stefan's brainwashing in the first place. Once Stefan's memory is returned, Gabi may worry that his brain isn't fixed, but that will be the end of Gabi's pretend reunion with Li. Gabi only has eyes for Stefan after Li's betrayal.
DOOL Spoilers: Nicole Walker Wants E.J. Dimera
A drugged Nicole Walker (Arianne Zucker) tells E.J. Dimera  (Dan Feuerriegel) she wants to make love. Of course, Nicole drank the mimosa that was meant for E.J. Nicole didn't want to get into a sexual relationship with E.J. again.  Will E.J. realize that Nicole has been drugged before sleeping with her?  Will Nicole regret her actions tomorrow?
Sloan leaves a bad impression on Roman. Roman may appreciate the fact that Eric Brady (Greg Vaughan) has Sloan to lean on after his mother's death. However, Roman has heard what Sloan did to Paulina Price (Jackee Harry) and Chanel. Sloan is not a very nice person at all, and Roman is left wondering what Eric sees in her.
Days of Our Lives Spoilers: Allie Horton Loses It
Allie confronts Johnny and Chanel when she finds them in each other's arms.  Johnny stopped by to see Wendy Shin (Victoria Grace) and Chanel was saying goodbye when Allie walked into the apartment.  Of course, Allie isn't open to any type of conversation, no matter how these two try to reason with her.  Allie will accuse Johnny and Chanel of cheating again.
Allie and Chanel's fight will lead to her once again approaching Alex Kiriakis (Robert Scott Wilson) for a shoulder to cry on. Only this time, Weny will see Alex sneaking out of Allie's room. Will Allie cheat on Chanel with Alex?  Will Allie's jealousy push Chanel right into Johnny's arms?  Allie needs to reign in her trust issues before she loses everyone close to her.
Be sure to catch up on everything happening with DOOL right now. Come back here often for Days Of Our Lives spoilers, news, and updates.