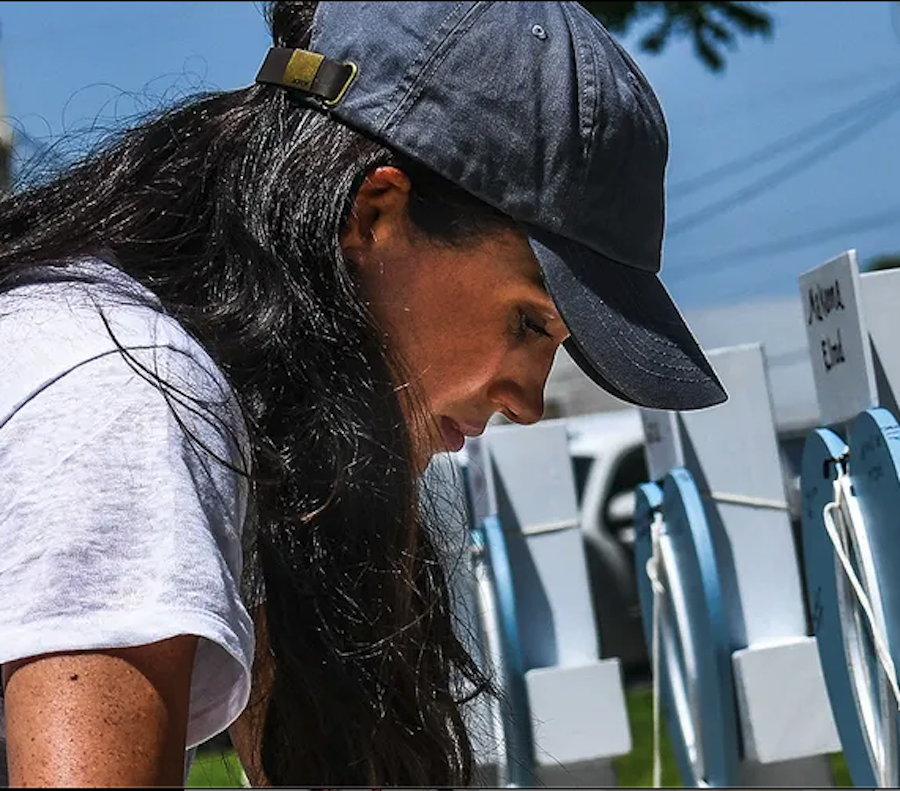 Was it really that necessary to take photos of the entire ordeal? Maybe, maybe not. British Royal News says there's a new report that says parents of the survivors of the Uvalde, Texas shooting have been left shocked over the fact that Meghan Markle decided to fly in and pay her respects to the victims that died in last week's mass shooting. A shooter entered an elementary school and shot dead 19 children and 2 adults in what is being called the worst mass school shooting in over a decade. Here's what you need to know.
Uvalde, Texas Parents Left Shocked Over Meghan Markle's Memorial Photo Op
Royal biographer Angela Levin, who often criticizes a lot of what Prince Harry and Meghan Markle say and do, made it pretty clear that Meghan dropping in unannounced was probably not a good idea. She said, "It becomes all about her, as usual. I thought it was terrible and I heard the parents are shocked."
And while Meghan's trip was unannounced, a lot of people believe it shouldn't have happened to begin with. Of course, it didn't take long at all for both her fans and followers to weigh in on the matter. Many of them wrote, "Parents would have been fuming, I wud. She's trying to do what Catherine did when she went 2 Sarah's vigil, they hardly even new Catherine was there, that's how it's really done,  but Catherine cares, that other 1 doesn't," along with, "MM's lack of basic common sense is amazing.  Most people would have the good sense to not use the memorial site of a national tragedy as an opportunity for self promotion, but not MM.  She goes for it & it backfires, big."
British Royal News: Should Meghan Have Stayed Home?
Another critic wrote, "I totally agree with everything you have said about MM. My heart and prayers go out to the parents & families of these children & two adults. Tragic and sickening. Our elected officials need to FINALLY DO SOMETHING!"
So far Meghan Markle herself has not made any comments about the criticism although at this point, it's doubtful that she will.
In the meantime, let us know what you think with your thoughts in our comments section again. Be sure to catch up with everything on the British Royal Family right now. Come back here often for the British Royal Family news and updates.