The Young and the Restless Spoilers: Ashland Using Victoria As A Weapon – Victor Unable To Stop Monster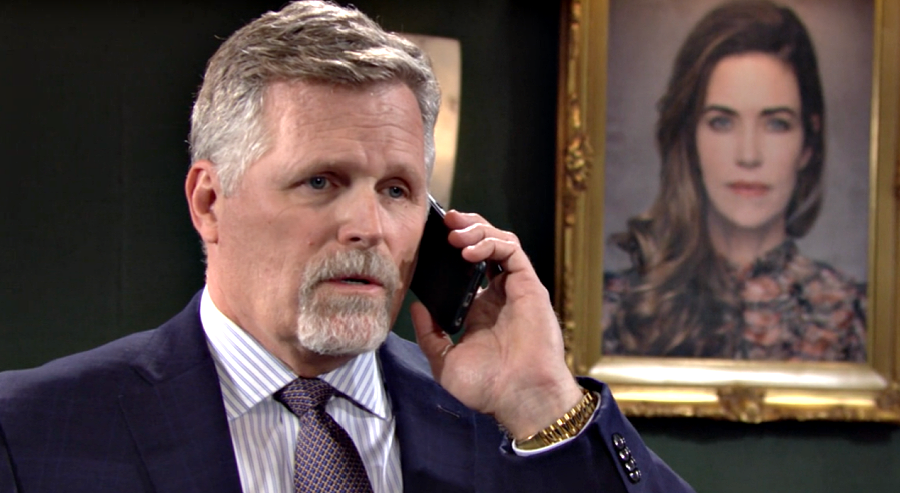 The Young and the Restless spoilers document that Ashland Locke (Robert Newman) is playing hardball. He not only intends to win, the Lockeness Monster wants to drive a permanent wedge between his wife and her father.
Victor Newman (Eric Braeden) did something Ashland had not planned for and was not ready to respond to. The Moustache gained access to information that appears to prove Ashland lied about his terminal condition.
The implication is that he did so as part of a manipulative plot to prey on Victoria Newman's (Amelia Heinle) emotions, with the reference to her maiden name being correct.
Ashland put his plan in motion before the marriage in Tuscany, Italy. Now, months later, his wife is blinded by her love for him and is not allowing herself to hear the truth Victor is shouting.
Young and the Restless Spoilers – Can The Snake Win?
It is fair to ask for clarification of the subject header. The snake, in this instance, is Ashland. Victor has not acted with deception in defense of his company and daughter.
Aiming to defeat Victor is a lofty goal. Many have tried before Ashland. Billy Abbott (Jason Thompson) comes to mind. But Billy-boy, as Victor condescendingly calls him to this day, generally just wanted Victoria not to be under her father's thumb.
Ashland's intent is not about an overbearing father-in-law. He wants to split Victoria from Victor and control Newman-Locke. But how can that happen will Victor is still in charge?
Young and the Restless Spoilers – Victor Newman Targeted By Son-In-Law
Victor met with Ashland privately. Victor told him what was learned about the cancer lie, that he had proof, and would tell Victoria unless Ashland agreed to surrender terms.
Ashland faked health distress to buy himself time. He had no intention of doing as Victor asked, in leaving town, later contacting Victoria, filing for divorce, and relinquishing control of Newman-Locke.
The way to fight Victor is through a proxy. That has long been Ashland's approach, with his reactionary response to Victor's threat underscoring his method. Victoria was and remains the proxy.
Young and the Restless Spoilers – Victoria Newman Locke Realizes The Truth
Viewers know what the game is. At some point Victoria will realize what the truth is and will turn on Ashland.
Whether she is the one to stop her husband is challenging to know. Like her father, she is tough and capable of handling that turnabout.
However, the seeming disappearance of Michael Baldwin (Christian Le Blanc) and the Peruvian clinic doctors he spoke to indicates that Victoria is in more danger than ever.
This site is a leading source for everything linked to The Young and the Restless. Check back regularly for Y&R spoilers and news!