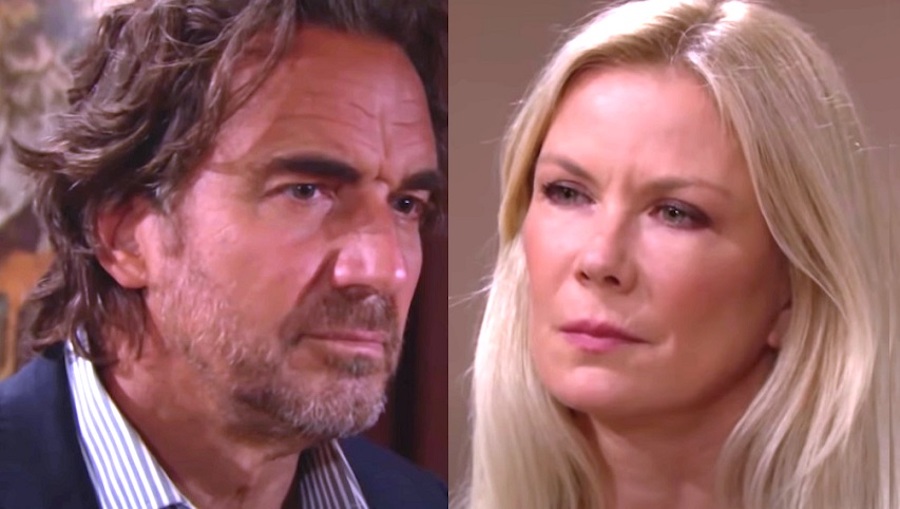 The Bold and the Beautiful spoilers say that fans have seen them break up and make up so many times in the past that they've completely lost count of how many times Ridge Forrester (Thorsten Kaye) and Brooke Logan (Katherine Kelly Lang) have divorced in the past just for them to get back together again. But this time around it seems like their situation may be a little different. That's because Brooke has been kissing men behind her husband's back and needless to say, Ridge has had enough of it. But considering their long and complicated history, a lot of fans can't help but wonder: should Ridge and Brooke reunite? Here's what you need to know.
The Bold and the Beautiful POLL: Should Ridge And Brooke Reunite?
It all began when Brooke locked lips with Deacon Sharpe (Sean Kanan) on New Year's Eve after having fallen off the wagon. And before she knew it, one thing led to another with Brooke ending up in bed with Deacon. The truth eventually made its way to Ridge, who ended up sharing a kiss with his own ex, Taylor Hayes (Krista Allen). 
Even though this has become a messy, complicated situation between four different people and two different ex-couples, Thorsten Kaye, who plays Ridge Forrester was asked about the possibility of a Ridge and Brooke reunion by Soap Opera Digest. He told the publication, "What can I say? It's complicated. When it comes to Taylor and Brooke, anyone you've had kids with and spent time with and have loved at one point, that door is never closed completely. We'll have to see what happens."
He also added his thoughts on Ridge reuniting with Taylor, which their kids seem to be pushing for. He explained, "These are grown people with their own lives and they want to get mommy and daddy to get back together? I guess they miss daddy tucking them in at night? I'm joking, of course. It's actually been fun to play this new aspect of the story — and Ridge and Taylor have great kids."
The Bold and the Beautiful POLL: What's Next For Ridge?
Now, as far as whether or not there's a future for Ridge and Brooke, remains to be seen. Needless to say, The Bold and the Beautiful fans will have to tune in to find out what will happen next! In the meantime, let us know what you think by leaving us a line with your thoughts in our comments section below. The Bold and the Beautiful airs weekdays on the CBS network. Check your local listings for times.
Be sure to catch up with everything on B&B right now. Come back here often for The Bold and the Beautiful spoilers, news and updates.