The Bold and the Beautiful Spoilers: Carter And Paris Pairing Inevitable – Grace Says No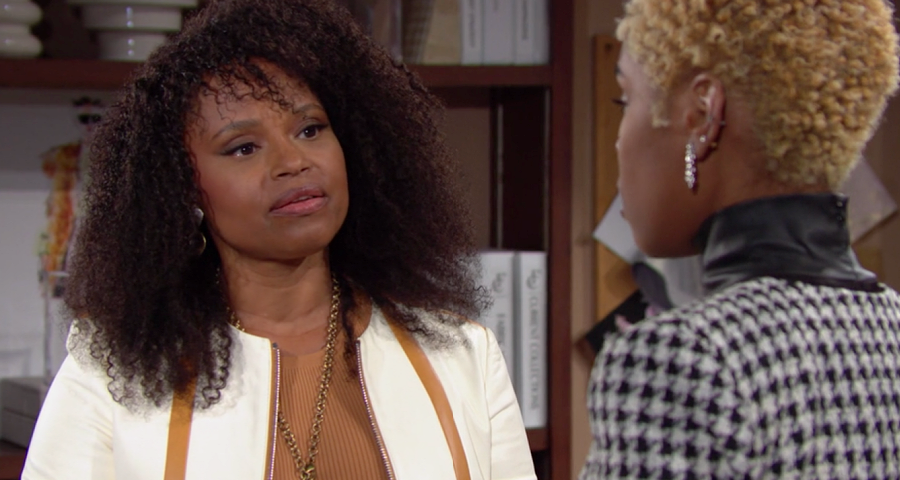 The Bold and the Beautiful spoilers document that Carter Walton (Lawrence Saint-Victor) is trying to pull himself away from Paris Buckingham (Diamond White). As viewers have seen, the power of their attraction is leading to increasing romantic encounters.
B&B's devoted fans know many overly personal moments happen inside Forrester Creations. The kiss that Carter and Paris shared adds to that long list of scenes.
Of course, the audience was not the only watchful eyes that witnessed what seems to be the next step in this potential couple's formation. Grace Buckingham (Cassandra Creech) stopped by at that inopportune time.
Bold And The Beautiful Spoilers – Zende Forrester Dominguez Fan
Paris appeared to be a fan of Zende Forrester Dominguez (Delon de Metz). Her mother recognized that during conversations that regularly included Zende's name.
The audience had no idea that Paris was in touch with her mother, as that character was not specifically referenced. The addition of Creech to the cast is welcomed. This solid veteran actor adds to this show's deep bench, and Paris' backstory is lengthened.
Bold And The Beautiful Spoilers – A Conflict On The Horizon
Zende did not like Carter's fiance's pressure. Paris' sister, Zoe Buckingham (Kiara Barnes), took to Carter and saw him as an option but eventually revealed that she liked Zende better.
While they were not great friends, Zende felt his camaraderie with Cater, and their professional connection at FC made it wrong for him to be involved with Zoe. Zende was taken with Zoe but came to like Paris more.
Grace's backing of Zende adds a different element to this storyline, as compared to the brief falling out Zoe had with Paris regarding Zende. Now, Paris needs to make a choice, which seems nearly certain to result in de Metz' character being hurt.
Bold And The Beautiful Spoilers – Carter Walton Is Single And Interested
Carter came to care for Zoe. But he appears to have only believed he loved her, rather than being in love with Barnes' character.
Paris is different than Zoe in many ways. One element that enables a different dynamic is that their mother is standing in the way of this relationship forming, as Grace's talk with Carter will attempt to ward him off her daughter.
However, the heart wants what it wants. This believable storyline has Cater as single and available, with Paris also being in that position. So, this interesting match appears inevitable on B&B.
This site is a leading source for everything linked to The Bold and the Beautiful. Check back on Soap Spoiler regularly for B&B spoilers and news!