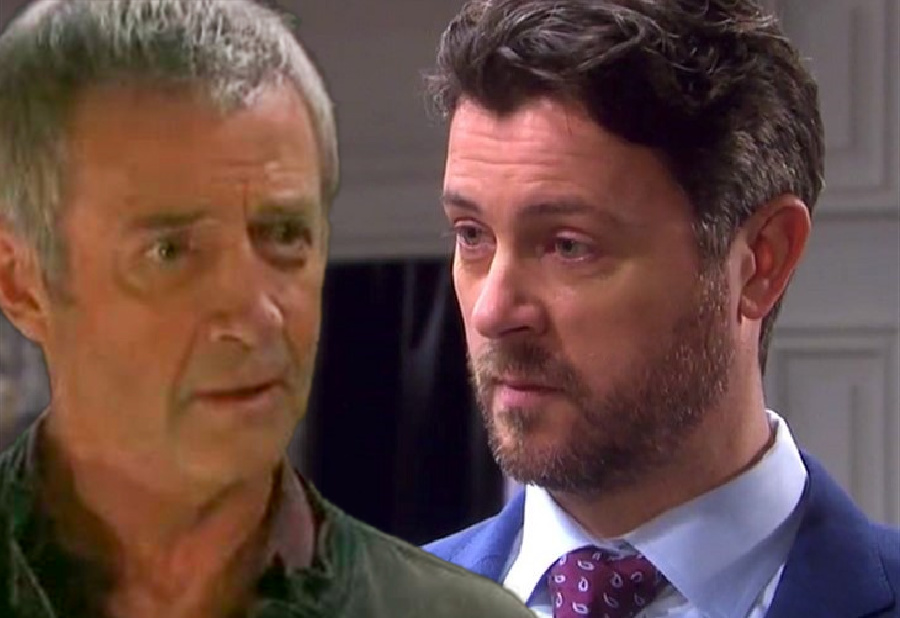 Days of Our Lives (DOOL) spoilers reveal EJ DiMera (Daniel Feuerriegel) being sent off to jail and having a surprise cellmate.
Days of Our Lives Spoilers: Like Father, Like Son?
After DOOL did its odd little time hop back in 2019, we learned that Will Horton (Chandler Massey) was in jail and sharing a cell with the man who once 'killed' him, Ben Weston (Robert Scott Wilson). By the time we caught up with Salem's version of 2020 that did not include COVID or a man refusing to accept he lost a presidential election, it surprised us that Will and Ben had become best friends.
It's not hard to forget when Ben killed Will with a red necktie in Abigail's little apartment when Will was waiting for the cable guy to show. But Dr. Rolf (Will Utay) revived Will, Ben was said to have mental illness that was under control, and eventually, both men were released from prison for crimes they didn't commit.
Now Will's on-again/off-again stepfather, EJ (Daniel Feuerriegel), is in prison for a crime he didn't commit and who should his cellmate be except Ben's dear old dad, Clyde Weston (James Read).
Days Of Our Lives – A Confrontation Years In The Making
Fans will recall that in 2014, EJ pretty much died after he was shot by one of Clyde's henchmen, but we learned later that just like with Will, Dr. Rolf managed to bring EJ back to life too because Dr. Rolf is amazing that way. However, EJ has never been able to confront the man who was responsible for all those lost years. Now, the two men come face to face and finally hash it out.
EJ spent years in that warehouse where Kristen DiMera (Stacy Haiduk) kept all of Salem's dead that Dr. Rolf managed to revive. Then, he was burned in a fire and had to spend years recovering in Europe, missing out on so much with his family and it was Clyde who took all that time from him.
Will Clyde even bother explaining himself? After all, unlike Ben, he is not a man who feels remorse and has been in jail paying for a variety of crimes for years now. Will EJ and Clyde end up as best friends like Will and Ben? Now, THAT would be weird. Stay tuned to Days of Our Lives weekdays to see how this story plays out.